Intolerance a temporary phase: Mukherjee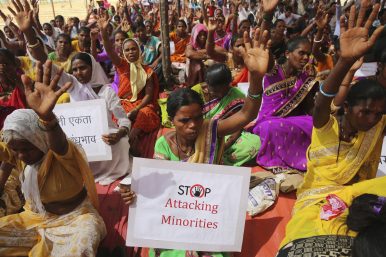 New Delhi, December 17, 2018: Indians will protect the nation's religious and cultural diversity against intolerance, former Indian president Pranab Kumar Mukherjee told a Christmas gathering organized by Catholic bishops.
There were more than 500 invited guests at the Dec. 13 program in the capital, New Deli, including ministers from incumbent Prime Minister Narendra Modi's government, parliamentarians, bureaucrats and Christian leaders.
"We are definitely going through troubled times," the former president said in a veiled reference to allegations that Modi's pro-Hindu Bharatiya Janata Party (BJP) tacitly supports violent Hindu fanatics.
"Divisive tendencies, intolerance and prejudiced 'fear of the other' seem to be defining us today, but it is a temporary phase and the idea of India will prevail."
He noted that an historically composite and yet diverse nation had emerged during 5,000 years of co-existence, acceptance, adaptation and assimilation.
"Indians will tenaciously fight this in order to once again establish our unique national identity, which has emerged out of our civilizational values and remains etched ever so clearly in our Magna Carta – the Constitution of India," said the 13th president of India.
Mukherjee, whose five-year term ended 2017, noted that aberrations such as crusades, jihads and violent struggles between sects would always be defeated in the favor of brotherhood, peace and prosperity.
He expressed appreciation for the Catholic Church's good work in the fields of education, health care and social services.
The most enduring image of the Catholic Church in India were the millions of children, irrespective of religion, educated in Church institutions as well as millions who received medical help in Catholic hospitals.
Mukherjee also said that the Church in India was personified by Missionaries of Charity nuns, founded by St. Mother Teresa, tending to the most marginalized of society.
Cardinal Oswald Gracias, president of the Catholic Bishops' Conference of India, said conflicts between people and nations arose "because we don't practice peace, love and fellowship."
Christmas was an appropriate time for Christians and non-Christians alike to reflect on such issues, Cardinal Gracias said.
Hindu spiritual Guru Goswami Sushil Ji Maharaj agreed with Mukherjee that an atmosphere of hate and intolerance now exists in India.
"There is no doubt that we are in a bit of a difficult situation, but soon that will vanish because our age-old tradition of co-existence still exists in our country," he said.
India has been witnessing increased incidents of violence against religious minorities such as Christians and Muslims since Modi's BJP came to power nationally in 2014.
At least 10 Muslim men have been lynched and many injured by Hindu vigilante cow protection groups.
Rights group Amnesty India said in a report early this year that many such extremist groups seemed to operate with the support of the BJP.
Persecution Relief, an ecumenical Christian forum that monitors persecution, says it recorded 600 incidents in 2017 of violence against Christians in India, including the destruction of churches, threats and harassment, social boycotts, hate campaigns, abductions and murders as well as other physical violence.
– ucan