Jammu-Kashmir Christians attacked over forced conversion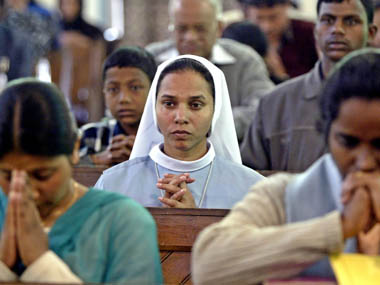 Srinagar, January 22, 2018: Hindus have burned down a church and shops belonging to Christians in India's Jammu and Kashmir state after a Hindu family alleged that their daughter was killed by her husband after she had been forced to convert to Christianity.
The violence is unusual in the Muslim-dominated state, where Christians have not faced any hostility from Hindus.
Tension is high in the Rajouri district bordering Pakistan following the Jan. 16 incident, with police on alert to prevent further violence.
Police said a 25-year-old Hindu woman, Seema Devi, married a local Hindu man, Rinku Kumar, two years ago. The man took his wife to the northern Punjab state, where he was working in a private firm.
However, Devi died recently in Punjab and her body was taken by her husband to his home village in Kashmir for burial with Christian rituals.
Devi's family objected and accused Kumar of murdering their daughter after she objected to being forced to convert to Christianity. They claimed that Kumar had converted to Christianity.
Devi was cremated by her family members with Hindu rituals.
It is the first incident of Hindu violence against Christians in the state, although there has been some tension after Muslims accused Christians of converting their people.
A police official said further deployment of forces is being made to prevent the situation from escalating.
Devi's uncle Joginder Singh told ucanews.com that the family had no idea that her husband was a Christian.
"We came to know about it last month when she told us over the phone that her husband took her to Christmas prayers at a church in Punjab. He must have coerced her to convert to Christianity," he said.
In the outbreak of violence following Devi's death, about 12 people including some policemen were injured.
Father Saiju Chacko, spokesman for the Jammu-Srinagar Catholic Diocese, told ucanews.com that the church condemns the outbreak of violence and wants the culprits brought to book. He confirmed that a Pentecostal church had been attacked by arsonists.
He said the incident was caused by some "fringe elements who are active in that area and are allegedly spreading Christianity and are also engaged in activities that are detrimental to the social balance of the society."
Some people, in the name of social work and religious activities, take local people to prayers with the aim of establishing churches, he said.
Father Chacko, who is also director of the social service wing of the Catholic Church in the region, said local people do not differentiate between Pentecostals and mainstream Christians. These incidents are "worrisome" because it could cause cause inconvenience to Catholic social work in the area, he said.
The diocese runs several schools and centers to help mentally and physically challenged children in the state. It also manages five hospitals offering medical help to the poor. It also has organized 784 self-help groups where women are trained to start small enterprises.
State legislator Sheikh Abdul Rasheed has demanded the immediate arrest of the persons accused of arson. He said the incident should be seen in the larger scenario of what is happening in the whole of India and how minorities are being forced to live like second-class citizens.
Christian leaders have been accusing hard-line Hindu groups of attacking their communities in northern India ever since the pro-Hindu Bharatiya Janata Party (BJP) came to power in New Delhi four years ago.
Christians say hard-line Hindu groups stepped up their action after seeing the BJP victory as a mandate to accelerate their goal of making India a Hindu-only nation.
– ucan