Jharkhand amends law to usurp tribal lands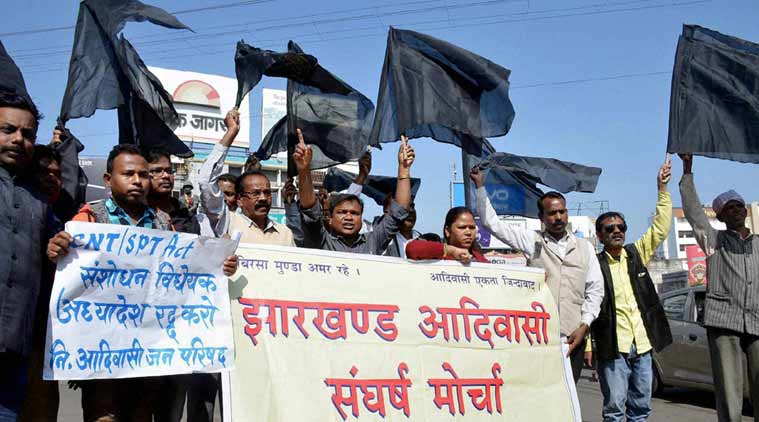 Bhopal, November 25, 2016: Church people in India have deplored Jharkhand state amending a law allowing the acquisition of tribal lands for industries and mining, ignoring widespread protest from tribal people against the move.
The eastern Indian state government run by Hindu nationalist Bharatiya Janata Party (BJP) passed the amendment Nov. 23. The amendment removes an earlier blanket ban imposed by law on either the state or individuals acquiring tribal land.
The ban aimed at protecting the land of uneducated and poverty stricken tribal people, who might sell of their land — the only source of their income — at throw away prices and become destitute. However, the amendment now enables anyone to buy tribal lands for industrial and mining purposes.
The bill was passed amid vociferous opposition in the 82-seat state legislative assembly, where the BJP and its allies have 43 seats. The state, created in 2000 purportedly to advance tribal welfare, has some 33 million people, some 26 percent of them belonging to indigenous communities.
The amendment "will hurt the poor tribal people in the state and their existence itself will come under jeopardy," said Auxiliary Bishop Telesphore Bilung of Ranchi, based in the state capital.
Opponents of the bill say the move will help transnational corporations take over vast areas of tribal lands, resulting in large scale displacement and migration of tribal people, seriously affecting their community life and existence.
Bishop Bilung, himself a tribal, said most tribal people live in the villages and depend solely on farming and forest produce for existence. "The amendment has put their life into serious danger," he said.
The church will oppose "this move that makes land open to anyone to sell and buy tribal lands," the bishop told ucanews.com as Christians joined hundreds of people for a Nov. 25 protest demonstration across the state.
About 1.5 million people in the state are Christians, at least half of them Catholics, and vast majority of them tribal people.
State chief Minister Raghubar Das told the state assembly that the amendment was in the interest of the state and the people. "The poor and the indigenous people are going to benefit the most from it," he said, arguing that industries and mines will bring more employment and financial benefits to the people.
Earlier, the church and other social forums working for indigenous communities held several protest meetings against the move. However, Das blamed the Christian community for inflaming the protest and said those behind it are people who want to convert the poor.
The opposition Jharkhand Mukti Morcha has also presented a memorandum to the state governor Draupadi Murmu urging her not give her consent to the amendment, which is necessary for it become law.
– ucan