Killing of Muslim over cow transport 'never happened' says Indian minority affairs minister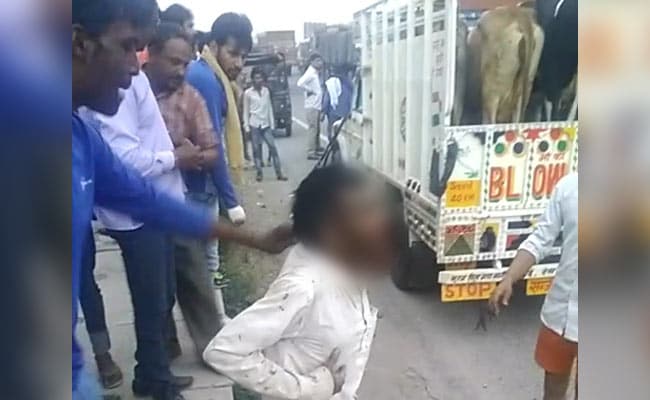 New Delhi, April 7, 2017: According to Times Now, Even as massive outrage continues over the killing of a Muslim man in Alwar Union Minority Affairs Minister, Mukhtar Abbas Naqvi in the Rajya Sabha, claimed that no such attack has taken place.
"The particular state you are talking about, the kind of incident that is being reported, no such incident has been reported on ground. Secondly, the media report that is being talked about, the Indian Government has already condemned it. We are sitting in Parliament and this way we are supporting cow slaughter," said Naqvi on Thursday.
Naqvi's statement caused a massive uproar in the Rajya Sabha, with Leader of Opposition Ghulam Nabi Azad questioning Naqvi's "ignorance."
"I am extremely sorry that the Minister is so ill-informed that even the New York Times has written today that Hindu cow vigilantes in Rajasthan in India beat Muslim to death. Even the New York Times knows and the Minister does not know," Ghulam Nabi Azad said angrily.
55-year-old Pehlu Khan died at a hospital on April 3 after he was beaten up by a mob of 15 people on the highway of Alwar in Rajasthan, India over allegations of cow smuggling.
Video footage of the episode shows cow vigilantes stopping the vehicles and dragging them out. What followed was a gruelling act of violence, as they were dragged on the roads, beaten mercilessly with sticks and belts.
The police said they registered a case of murder against six persons and 200 unknown people. Addtionally, three arrests have also been made in the case, but none of them include the six key assailants – Hukum Chand, Jagmal, Om Prakash, Sudheer, Rahul Saini and Navin Saini.
The incident is a spine-chilling reminder of the Dadri incident in 2015, where a Muslim man was lynched to death by a mob for allegedly keeping beef in his house. However, investigations proved that the same beef which led to his death was mutton.
– the nation