Kolkata RJ Mir attacked for celebrating Christmas: His reply shows why India will never lose against hate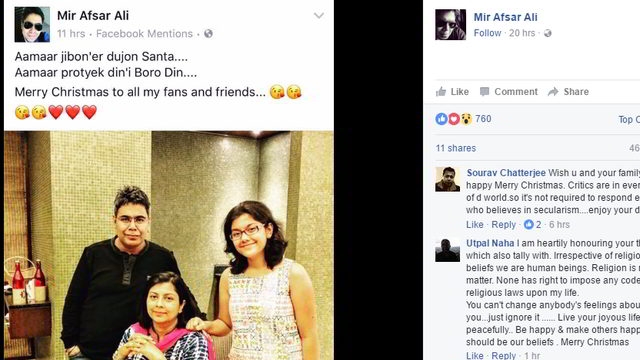 India, December 26, 2016: It seems like some people just don't understand the concept of India. The British thought that as a nation, we would never survive, given all the different religions that co-exist. And while we have trouble now and then, by and large India as a whole has thrived despite its numerous religions. Growing up, irrespective of the religion we were born into or followed, we celebrated all festivals with the same fervour whether it was Eid, Durga Puja, Diwali or Christmas.
But it seems like some people just don't get that as Calcutta-based radio host and actor Mir Afsar Ali, who was recently seen on The Kapil Sharma Show learned. When he posted a picture of his family celebrating Christmas, he attracted some haters from fellow Muslims who felt it was unbecoming to celebrate the festival. The attack against Mir surely comes as a surprise to his longtime listeners and fans as the Kolkata RJ has always celebrated festivals of all religions with equal enthusiasm. He is one individual who has gone way past narrow identity like religion and has became a cult figure in West Bengal for his ready wit, charm and improvisation techniques. But looks like some haters are destined to drown in their cesspool of hate.
This is what Mir wrote on Facebook.
Had a great Christmas this year… well almost..
Posted a pic of my family on my official page this morning wishing everyone on this very special day…
Over 28k likes, 400+ comments and close to 200 shares in a matter of 12 hours (at the time of posting this one)..
But that's NOT what this post is about..
It is about a few morons who started giving me advice on why a MUSLIM should not be 'celebrating'/'wishing' on Christmas…
I was advised by one to seek forgiveness from the almighty Allah..
I was told by another that this certainly was very unsuitable for a person who's religion is Islam..
(screenshots attached of 3 such imbeciles; there are many more that I had to delete/block for obvious reasons)
NO… I am NOT angry.
I am not even retaliating.
I am just thoroughly amused at the state of affairs all around.
I sadly realise where we stand today..
I realise that tomorrow if I wish to donate something to The Missionaries of Charity or Ramkrishna Mission, I will most certainly be criticised by some fellow Muslims…
"Arrreee… Tauba! Tauba! Aap kisi Yateemkhaane (orphanage) yaa madrasah ko paise de sakte the!!!" (let me not get into an explanation on this as I don't want to disclose anything on my philanthropic commitments)
I also do realise that tomorrow if I wish to donate something to a Muslim organisation (which should be the norm, according to several fellow Muslims), I would be criticised yet again by several 'others':
"Arrreee.. He's a Muslim; obviously he would only patronise his own caste.. what else could one expect of him??!"
Friends.. it is a strange world indeed and we are living in stranger times.. and maybe the people who have commented are from a neighbour country, but believe me…
Believe me.. there are truly no boundaries/borders for religious fanatics… this is a worrying trend all over the world..
And trust me, it was always there.. the minds were always this narrow… it's just that today, you get to read/speak about it more often than you breathe air and drink water!
I spent 15 years of my life at a Christian missionary school: The Assembly of God Church..
I went to a masjid on Ripon Street and learnt the Holy Quran and several other Islamic books for 3 years..
And I married a Hindu Brahmin who was NOT forced to convert to Islam…
All I can say at the end of this post for these scumbags is ironically in the words of Lord Jesus Christ…
"Father, forgive them, for they do not know what they are doing"
(Book of Luke; Chapter 23, Verse 34)
Wishful thought of the season:
Yeh Christmas jitni 'Merry' hai, utni hi hai 'Teri'..
Par Afsos, tu samjhegaa nahin…
– dna india