Maharajganj Church case: Hindu Yuva Vahini member waved Rs 100 note at woman, asked her to chant "Jai Shri Ram"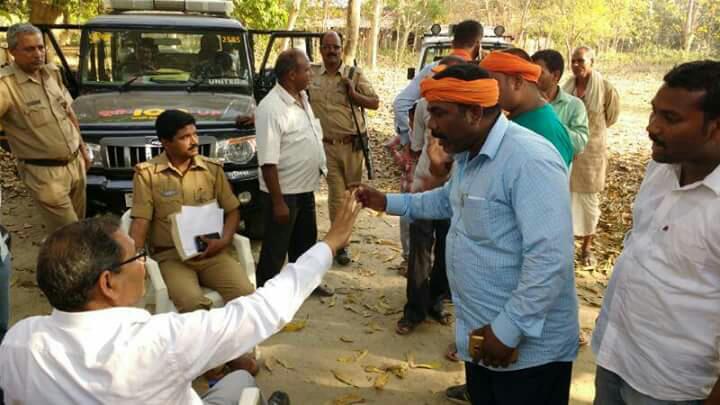 Uttar Pradesh, April 9, 2017 : Details emerging from the disruption of Church services at Maharajganj on Friday by Hindu Yuva Vahini are pointing to provocation, intimidation, and insult of the Church's priests and the followers at the hands of the right-wing extremist organisation, even as the police deny any such charges.
On Friday, a group of around 150 catholic individuals, including 9 people from the US, were detained and questioned after members of Hindu Yuva Vahini accused them of carrying of religious conversion of attendees.
Even though the police found nothing suspicious and reports coming out from various media houses are saying the same, supporters of the radical outfit are raising questions over the presence of US nationals in a village of Maharajganj which has no touristic value.
But as the Priest of the Church in question, police and local sources claim, the Church was built around 1922 by the Britishers and will complete its 100-year anniversary in a few years. This explains why Catholics from Maharajganj and nearby area visit this Church. While it may not be the best-maintained Church in the district, it nevertheless has historic value, as Father Yuhanna Adam claims.
With Good Friday, a sensitive and auspicious occasion for the Christian community on April 14, regular prayers are being held in almost every big as well as small and remote churches of the India and the Maharajganj Church is no different.
Talking to TwoCircles.net about the presence of US nationals, Priest Yuhanna Adam said, "They arrived from Noida early morning and wished to see the Church because of its historical value. How could I have stopped them or question them? It's a church, so everyone from every community is welcomed here anytime."
The prayer started at its usual time around 9:00 AM and many people came to join it, says Adam. "Soon after the prayer started, a group of individuals with saffron headbands arrived with the police. Police immediately stopped the prayer and asked everyone to come out from the room," he added.
Priest Adam continued, "The disruption of the prayer gave them (HYV members) the license to do as they pleased. Since it was not a holy place for them or for the police, they roamed around every corner inside the Church and picked any paper or book that came in the way."
He said, "You know that every church has a dais that no one touches or gets on except the priest. We have the one too and I deliver a religious speech from that. It is a holy thing."
"They got onto that dais and they looked it as it was something suspicious. They took all the papers kept in that dais. I don't even know what important papers I have lost?" he added.
The local police have denied this accusation altogether and said that except questioning and checking papers, nothing else happened at the Church. But police sources inform that members of the Hindu Yuva Vahini members, namely Ganesh Kharwar, Krishnanandan Puri aka Pappu Puri, Manish Sharma, Sheshmani Yadav and others indulged in vandalism and abuse.
"They were kept harassing and abusing us", said Adam. When we probed further about what they said, Adam added, "I understand your need for details, but I can't say the words with which they were calling us. I simply cannot."
Adam added, "They left no one, including the foreigners who had no job here but to pray. They were to leave after the prayer and did not plan on staying longer. But they were standing there and being questioned by the police on one side and being verbally abused by those goons on another. They had never expected this kind of reaction while visiting an old church located in a remote town of Uttar Pradesh."
The Hindu Yuva Vahini people abused the entire crowd, including women. "There was one guy from the Vahini,  Ganesh Kharwar. He asked an elderly lady why she was in the church. Why she prayed here? She replied that Jesus is very kind. Jesus took care of all her medicines. He cured her."
"Then Ganesh Kharwar scolded her that there is no such thing as Jesus and these people are fooling you. Then he gave the old women a 100 rupee tender note and told her – ab bolo Jai ShriRam (Now say Jai Shriram)," Adam said.
"I don't want to go to talk about what people feel about Jesus and what their or our religious beliefs are, but they were kept asking people in the room that what amount of money they were being offered to get converted to Christian, what gifts were offered to them, they asked – ye gora log kitna paisa diya hai (How much money these foreigners have given you)?" the priest added.
A resident of Noida, who had reached there on the same day with the US nationals, confirmed these claims. Local sources too confirmed the objectionable behavior of the members of the Vahini.
It is important to point that before Good Friday, the preceding 40 days see regular prayer sessions up to the day of Easter, which falls two days after Good Friday. The same is being carried out in the Church. The recent events have left Yuhanna Adam, fearing for his life. "Since these are the days of prayers and people keep coming here, HYV goons are threatening me every day that if I do not stop my religious conversion activities soon, I would be lynched," the priest added.
"Ab sabki Ghar-wapasi karani hogi hum logon ko (Now we will have to do Ghar-wapasi[Homecoming] of everyone here) they keep saying this," he said.
The local from Noida, who insisted on being anonymous, was also present at the Dadhauli Church where the incident happened. He said, "We had gone there just to witness the church as it is a historical monument. We had made a random plan and gone there. But I still cannot believe that such a spree of verbal abuses and accusations took place in a prayer room. People present there were like any other person of religious belief who enjoy prayers."
The SHO of Kothibhar Police station, Anand Kumar Gupta, informed that police questioned every individual about the conversion to check if there was any such activity being carried out at the time, but everyone refused.
Thomas Thuruthimattam, Bishop of the diocese of Gorakhpur, takes this incident as an indirect attack on religious freedom of the people. He said, "We say that this is not direct attack because we do believe in the Indian constitution. The indirect threat is something which goes out of the constitution by people who have representation in the constitution."
– tcn