Mamata, Kejriwal break ranks with govt's team for Vatican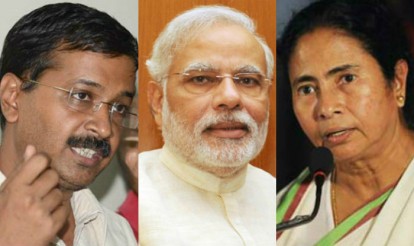 New Delhi, August 31, 2016: The Indian delegation to the Vatican for the much-awaited canonisation ceremony of Mother Teresa is riven by differences. Several political leaders going to the ceremony are refusing to be part of the official delegation.
Mother Teresa is to be declared a saint by Pope Francis at the Vatican on September 4.
The BJP government has found itself in a spot with political leaders belonging to Opposition parties — Bengal Chief Minister Mamata Banerjee, Delhi Chief Minister Arvind Kejriwal, representatives of the Left Front government in Kerala and the JD(U) government of Bihar — refusing to be part of the official delegation.
They may also not attend the official celebratory dinner to be thrown by the Indian government in the Vatican. But the Congress has agreed to be part of the official delegation led by External Affairs Minister Sushma Swaraj. The Kerala Congress — a mainly Christian party — has also decided to send its lone MP with the delegation.
The 11-member delegation also includes Goa Deputy CM Francis D'Souza, Supreme Court judge Kurian Joseph, National People's Party MP Conrad Sangma, lawyer Harish Salve and Catholic Bishop Council of India Bishop secretary-general Theodore Mascarenhas. Union minister Harsimrat Kaur is also expected to be part of the delegation.
"Politics is playing spoilsport in a holy event like this. We wanted the Indian delegation to look united but it is not so,'' an official involved in the finalisation of the official delegation told Express.
The government invited states to send representatives to be part of the official delegation. But Mamta and Kejriwal said they would rather go to the Vatican as part of the Missionaries of Charities delegation, having received an invitation from the order. Mamata has also announced a dinner for those Missionaries of Charity invitees on the same date as the official dinner.
– the new indian express