MLAs, Churches agree to take lead for fair & honest electoral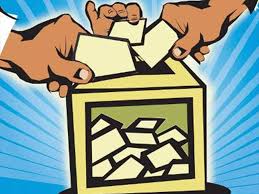 Nagaland, November 29, 2017: Legislators and churches in Nagaland today agreed to lead and take the responsibility of a fair and honest electoral practice.
The affirmation was made as part of a colloquium on Clean Election organised by Nagaland Baptist Church Council (NBCC) for the churches and legislators of Nagaland here.
"The legislators, churches and citizens affirm that all of us have an investment in the future of the state of Nagaland and that our shared future must flourish without any obstacles," read a joint statement signed by Nagaland Chief Minister TR Zeliang for the legislators and NBCC secretary general Rev Zelhou Keyho and Nagaland Joint Christian Forum vice president Rev Dr N Paphino for the churches.
"The commitment was done in the spirit of true Christian repentance as we realise that serious malpractices surrounding the conduct of state elections is the major cause of most of the problems that we are facing today," the statement read.
The signatories on behalf of the legislators and the churches in the state also affirmed to lead and take the responsibility of putting in place a fair and honest electoral practices.
They also pledged to support and abide by Clean Election campaign that is being spearheaded by the Churches in Nagaland.
Election in Nagaland are due early next year.
In his address during the colloquium, Zeliang lauded the bold step taken by the churches for checking corrupt practices in the electoral system.
"I am in full agreement with NBCC that all is not well with the existing electioneering system. It is true that efforts have been made in the past to address this deeply rooted malaise, yet, a tangible solution to effectively combat this evil have not been found and we continue to suffer its ill-effects unabated," Zeliang said.
"When we closely look into the issue of electoral malpractices, it truly is an issue of colossal magnitude confronting each and every one of us. It, therefore, calls for pooling-in our collective wisdom to tackle this menace once and for all," he said.
Towards this end, the CM assured that his government is prepared to leave no stone unturned in seeing that measures required are taken to ensure clean elections.
He also sought for the active support and cooperation of NBCC and all NGOs, Hohos, students and youth organisations in tackling this issue.
NBCC general secretary Rev Z Keyho regretted that selfishness and greediness has taken over the good and common sense of respect and honour we once possess them as our traits.
Keyho also made it clear that the church is not playing politics by trying to usher in free and fair election in a system that has gone weary, not that it is against any political party or parties. PTI NBS RG .
– new indian express