Muslim minority living in fear, after 200 Buddhists attack mosque in Bago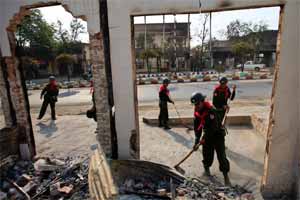 Thailand, June 24, 2016: Some 200 Buddhists stormed a mosque Thuye Tha Mein, Bago Province (north of Yangon), leaving the building partially destroyed. The fence of a nearby Muslim cemetery was also destroyed.
Scores of Muslim families were forced to seek refuge in the police station to escape the violence. The Muslim community is now living in fear of further reprisals.
The attack was caused by a dispute Thursday between neighbours over the building of an Islamic school.
"It started when a Muslim man and a Buddhist women started to argue and then people came to fight him," Hla Tint, the village administrator, said.
Around 70 Muslims, including children, sought shelter in a police station.
"We had to hide as some people were threatening to kill Muslims. The situation has never been like this before," said Tin Shwe OO, 29.
"I do not dare to stay at my house," he explained, adding that his family stayed at the small police station overnight.
The incident is a sign of rising tensions between Myanmar's Buddhist majority and minority Muslims.
Since 2012, sectarian violence has left at least 300 people dead and 140,000 displaced, most of them Rohingya Muslims from Rakhine State.
Since they are considered immigrants from Bangladesh, they are not citizens of Myanmar, and many live in isolation, locked up in refugee camps. Thousands try to escape each year to other countries of Southeast Asia.
For Burmese nationalists – starting with the monk Ma Ba Tha – fiercely object to the use of the term 'Rohingya', insisting that they should be called Bengali, to stress their status as illegal migrants.
Ensuring internal peace and respect for all religions is one of the biggest challenges Myanmar's new government under the National League for Democracy (NLD) has to face.
Myanmar's new foreign minister, NLD leader Aung San Suu Kyi, has been repeatedly criticised for not properly defending the Rohingya.
A few days ago the Dalai Lama said that the NLD leader "should speak more openly" about the difficulties the Muslim minority faces.
Meanwhile, the Nobel Peace Prize laureate arrived in Thailand yesterday for a three-day visit.
Today she will meet Prime Minister Payut Chan-o-cha, and will sign a pact to facilitate the regularisation of Myanmar immigrants working in Thailand.
Despite the rain, thousands of cheering people greeted her yesterday at Mahachai (near Bangkok). The NLD leader addressed some 500 migrant workers.
The fate of about 100,000 Rohingya fleeing persecution and living in nine refugee camps on the border between the two countries is one of the issues Ms Suu Kyi will discuss with Thailand's military government.
"We hope she will pressure the Thai government to have sympathy for us," said Ma Kout Shwe, a Myanmar steel-factory worker living in Thailand.
– asianews