Muslim protests force cancelation of protestant celebration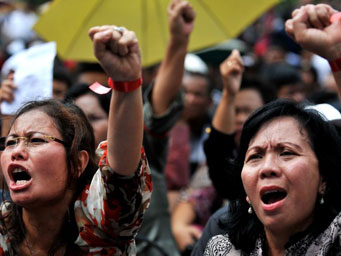 Indonesia, October 24, 2017: Organizers of an open-air prayer service in Indonesia to mark the 500th anniversary of the Protestant Reformation were forced to cancel the event following pressure from Muslim hardliners who accused them of plotting plot to convert Muslims to Christianity.
Observers said the case was another example of growing intolerance in the country.
The service was to be held on Oct. 20 at the Kridosono football stadium in Yogyakarta and to be led by Stephen Tong, head of the Reformed Evangelical Church of Indonesia, whose members are mainly Indonesian Chinese.
However, the event was scrapped after the Forum Ukhuwah Islamiyah (FUI), an arm of the Indonesian Ulema Council, wrote to stadium officials calling on them not to allow the gathering, saying it was an attempt to Christianize Muslims.
They also threatened to disrupt the event if it went ahead.
Organizers later canceled the gathering saying they wanted to avoid unwanted repercussions against Christians.
"For the shake of interreligious harmony … and to avoid acts of intolerance, the committee decided to call off the national prayer service to mark 500 years of Reformation," the Reformed Evangelical Church of Indonesia said in a statement.
Ahmad Mursyidi from the FUI said his organization strictly opposes such events in public places.
"It had the potential to become an arena of apostasy under the guise of mass healing," he told ucanews on Oct. 23.
However, the organizers scoffed at Ahmad's claim, saying that Rev. Tong has never led any healing services, only prayer services.
Police rejected the claim that hardliner pressure forced the cancellation of the service.
Yogyakarta police spokesman Yulianto said it did not go ahead because organizers did not have a permit to stage the event.
Organizers however said approval had been sought and granted in May from local authorities and police.
The service was supposed to be one of 17 major events to be held in Indonesian cities to mark 500 years since the Reformation began in October 1517, which resulted in the split with Rome by Protestants.
The cancellation of the service was the second time a major Christian gathering has been called off in less than a year. In December last year, a Christmas service in Bandung, West Java, also to be led by Rev Tong was stopped by hardliners.
Achmad Nurcholish, a Muslim scholar, said the latest case is proof that intolerance remains a threat to interfaith harmony.
"It's a sign that in our society it is difficult to accept people of different beliefs," he said. He also accused the government of not taking tough action against people who spread hatred against other religions.
"Acts of intolerance will continue unless the government pays serious attention to it," he said.
Bonar Tigor Naipospos, deputy director of the Setara Institute for Democracy and Peace said intolerant groups always use apostasy allegations to prevent activities of minority groups.
"Unfortunately, local governments back them by canceling such events under the pretext of maintaining security," he said.
– ucan