Nagaland ex-MP pushed for 'India-Israel diplomatic ties'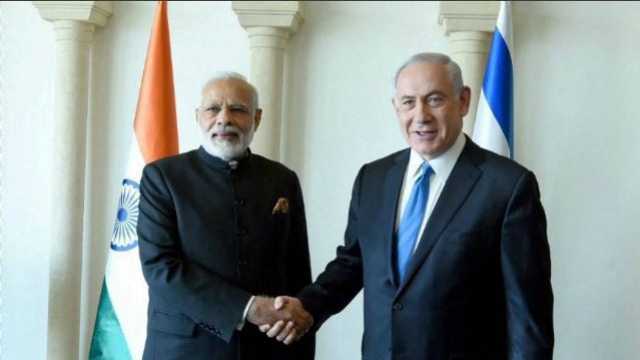 Nagaland, July 6, 2017: As former Rajya Sabha MP, Khyomo Lotha watched the television news of Indian Prime Minister, Narendra Modi's visit to Israel, at his Kohima residence late Tuesday night, he was drawn to the March Budget Session in the Parliament way back in 1991. The Naga MP was possibly the first to raise the issue that India must have diplomatic relation with Israel.
During this particular session, he raised the concern especially from the perspective of being a Christian. Recognising that Jerusalem is a place of pilgrimage for Christians, which North East India and particularly Nagaland has in majority, he championed the cause for them to be able to visit the place freely.
The following year when the historic diplomatic relations between India and Israel was established in 1992, Khyomo Lotha wrote to the then Prime Minister of India, PV Narasimha Rao welcoming the decision. In a telegram, he had written: "I am glad and welcome the decision of the Government of India to establish diplomatic relations with Israel.
I, as a Christian MP expressed my frank and strong opinion in this matter and demanded establishment of Diplomatic Relations with Israel in the last Budget Session in Parliament (in 1991). Now that it has come to reality, I am sure Government of India will have a greater role to play and that too more effectively for peace in West Asia. I heartily congratulate you and will continue to support in your sincere effort to bring peace in that region in particular and the world at large."
PV Narasimha Rao had also replied to his telegram in which the former PM said stated: "Thank you for your message of 30th January, 1992 regarding establishment of diplomatic relations with Israel." These documents have been preserved by Khyomo Lotha to this day while Modi's visit to Israel, also marking 25 years of the establishment of diplomatic relations between the two nations, has naturally struck a chord with the former MP.
As he looked back on those days as a Rajya Sabha member, he recalled that, "prior to this, we Christians couldn't go to Israel, even with our diplomatic passports." After the ties were established in 1992, he also remembered a Reverend from Nagaland who frequented Israel, coming over to thank him for raising his concerns regarding the diplomatic relations during the March 1991 Budget Session. This meant that henceforth there would be direct flights from India as opposed to earlier when they had to fly mostly from Kathmandu and go through several stops to reach the destination.
It may be noted here that 77 year old, Khyomo Lotha was elected as a Rajya Sabha member in the year 1974 and finished a full term as a member of the Congress Party. He was again elected uncontested for another tenure from 1989 to 1992. Two years later, he resigned from active politics in the year 1994 but has gone on to serve as the Chairman of Lotha Hoho and Indian Red Cross Society, Nagaland apart from holding other respectable positions. He is currently the State Chief Commissioner of Nagaland State Bharat Scouts and Guides.
– morung express