No one has right to snatch tribals' land: Modi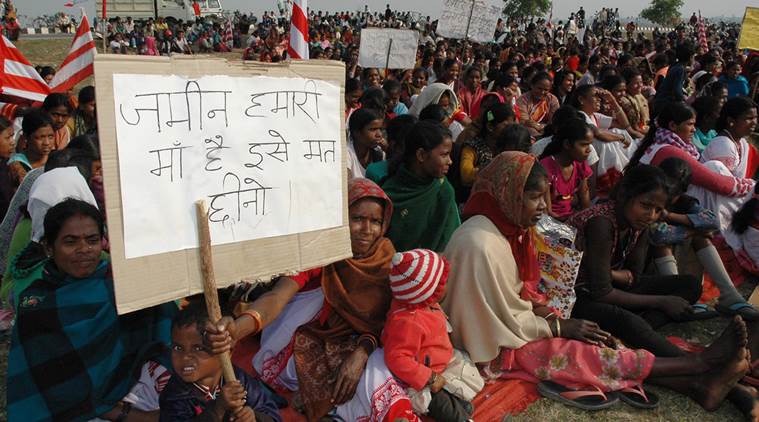 New Delhi, October 26, 2016: Praising the country's tribal communities for conserving the forests, Prime Minister Narendra Modi on Tuesday said that "no one has right to snatch away tribals' land".
Modi was speaking while inaugurating the first National Tribal Carnival here, which will continue from October 26-28 at Pragati Maidan.
"It's the priority of our government to ensure that tribals get their right. No one has right to snatch away their lands," Modi said.
India is home to about 300 main tribal groups, which differs from one another in customs, practices, traditions, faith, and languages.
According to the 2011 Census, there are a total of 10.43 crore tribals in country constituting 8.6 per cent of total population.
There have been reports, however, of the forced relocation of tribes from core forest areas to buffer zones, mostly in Madhya Pradesh, which has maximum number of tribals.
Welcoming over 1,600 tribal artists and about 8,000 tribal delegates from across the country, Modi said he himself has worked in tribal-dominated areas.
"The capital is delighted to welcome people from tribal communities from all over India, that too during the festival season," the Prime Minister said.
He said through Vanbandhu Kalyan Yojana — a central government scheme for holistic development of tribal belt — his government is reaching out to the tribals to address their concerns.
"Our tribal communities have faced difficulties but they have also been blessed with the ability to overcome those difficulties," he said.
Speaking of the rich contribution of the tribal communities to the nation, the Prime Minister said: "If there is someone who saved the forests, it is our tribal communities. Saving forests is part of tribal culture."
The three-day tribal carnival is being held to showcase the works and interaction with the eminent tribal personalities who have excelled in various fields like sports, arts and culture, literature, academic and medicine.
Special trains were booked to bring tribals to attend the carnival.
The events during the carnival will be a mix of live musical and dance performances, exhibitions, display of craft, fashion show, panel discussion and book fair.
– matters india