Odisha pulled up for fake encounter deaths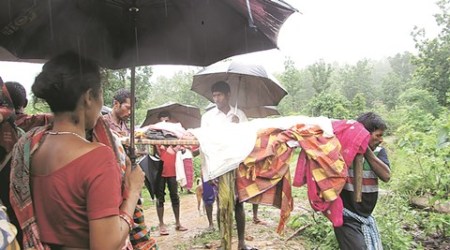 Bhubaneswar,  January 4, 2017: The Odisha Human Rights Commission has rapped the state government for killing an old couple during an alleged anti-Maoist operation in 2015.
The commission's acting chairperson Justice BK Mishra on January 3 directed the eastern Indian state government to pay compensation of 1 million rupees to the kin of Dubeswar Nayak and his wife Bubhudi within two months. The couple were killed in Kandhamal's Kotagada police limits in 2015.
The couple who belonged to Pangalpadar village had gone to top of a nearby hill to talk to their son over mobile phone on July 26, 2015.
The Special Operation Group that had gone to the area for anti-Maoist operation shot the couple.
Advocate Prabira Kunar Das had filed a petition with OHRC while activist Biswapriya Kanungo filed a separate complaint representing the couple's son Rahul Nayak. Both challenged the encounter theory of the security forces and stated that the two were killed in a fake encounter by SOG and Kandhamal Police deployed in Madaguda reserve forest.
While the Kandhamal administration had given 20,000 rupees toward funeral rites and 200,000 rupees to the kin from the Red Cross Fund, the petitioners had sought compensation on par with the ex gratia provided to victims of an earlier encounter death where 700,000-rupee compensation was given to each of five victims' relatives.
The OHRC observed that violation of human rights appear tell-tale in the facts and circumstances of the case as the two tribal persons died with no provocation from their side.
"Whether they fell to bullets of suspected Maoists or SOG jawans, the fact remains that two innocent tribal persons lost their lives by sustaining bullet injuries," Justice Mishra observed and added that "the State squarely failed to prevent violation of the basic human rights of the tribal victims."
The Commission reiterated the inquiry report of RDC (South) which had observed that inaccessibility is the main reason for backwardness and emergence of Left Wing Extremism in the area, the Indian Express reported.
Stating that better access to development and social security programmes will go a long way in mitigating difficulties and migration of tribal persons, the OHRC said it would be useful to structure appropriate guidelines to restore faith of the people in police. "It is imperative that extra judicial killings are properly and independently investigated so that justice may be done," Justice Mishra said.
– matters india