Paranoid ISIS leader sleeps with suicide vest, as Iraqi army advances in Mosul
November 20, 2016 by admin
Filed under Uncategorized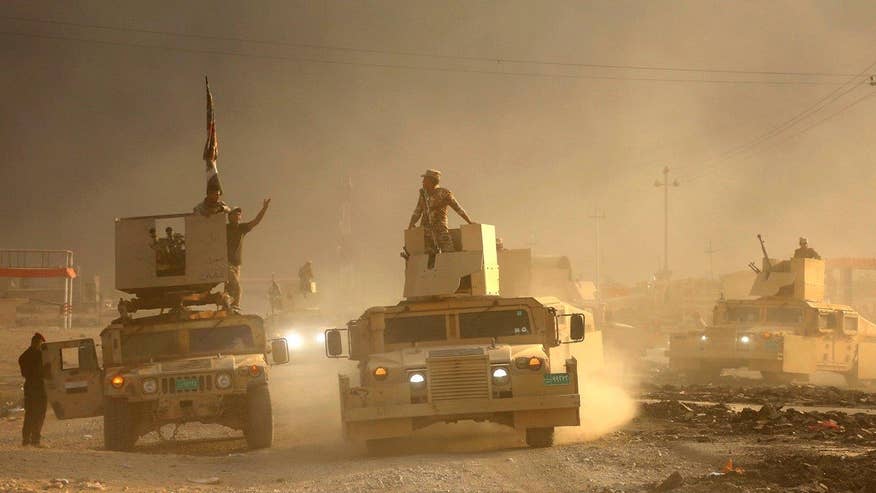 Iraq, November 20, 2016: As Iraqi assault troops begin to enter key parts of Mosul city for the first time in two years, Islamic State leader Abu Bakr al-Baghdadi reportedly keeps his suicide vest on even while sleeping lest he be caught alive.
After capturing neighboring Zahraa and Tahrir districts, troops have entered the Muharibeen neighborhood in the northeastern part of Mosul with the help of airstrikes by the U.S.-led international coalition, Al Masdar News reported Saturday.
At least 2,800 fighters of Islamic State, also known as IS, ISIS, ISIL or Daesh, have been killed or captured since the campaign to liberate Mosul, dubbed as "We Are Coming, Nineveh," began on Oct. 17, the news report added.
ISIS leader al-Baghdadi "has become intemperate," according to Reuters, which read text messages written by an informant inside the city.
"He has cut down on his movements and neglects his appearance," a message reads. "He lives underground and has tunnels that stretch to different areas. He doesn't sleep without his suicide bomber vest so he can set it off if he's captured."
Baghdadi, who declared himself the caliph of portions of territories of Iraq and Syria about two years ago, has also become suspicious of people close to him, as defectors or informants are being regularly executed. "Sometimes he used to joke around," says another text message. "But now he no longer does."
This comes weeks after al-Baghdadi released a new message urging his followers to keep fighting to maintain the sunni terror group's control over Mosul.
In the message, distributed by the militant group's al-Furqan media arm, al-Baghdadi rallied his fighters, especially in Mosul. "Oh you who seek martyrdom! Start your actions! Turn the night of the disbelievers into day," he says, according to a translation provided by the SITE Intelligence Group, Fox News reported.
"Totally decimate their territories, and make their blood flow like rivers," al-Baghdadi adds.
Some Christian areas on the Nineveh Plains in northern Iraq near Mosul have been liberated as part of the Iraqi army's efforts to take Mosul. However, as Christian residents are gradually returning to their homes, they are finding their houses and churches already destroyed or damaged by IS militants.
The terror group uses brutal methods to torture and punish those who it considers to be its enemies, including Muslims who do not believe in its version of Islam. Christians and other minorities are among its main targets.
– christian post