Pope offers pizza lunch to 1,500 poor after Mother Teresa canonization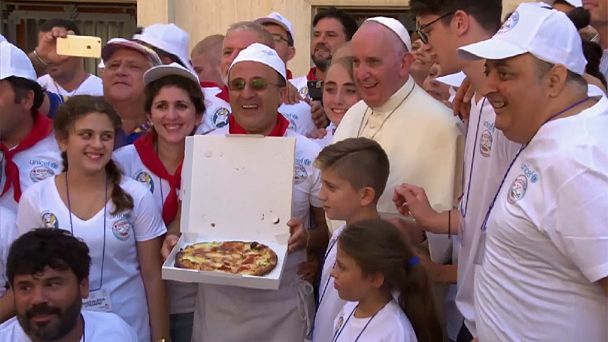 Vatican, September 4, 2016: On the occasion of the canonization of Mother Teresa of Calcutta, Pope Francis has decided to offer a pizza lunch to 1,500 poor and needy people cared for by the Missionaries of Charity throughout Italy.
According to a Sept. 4 communique from the Vatican, the guests are "are poor and needy people, above all from the dormitories of the Sisters of Mother Teresa and come from all over Italy," including Milan, Bologna, Florence, Naples and from all the houses in Rome.
They traveled on different buses overnight to make it to the canonization Mass for Mother Teresa of Calcutta, now called Kolkata, and sat in a reserved section near the statue of St. Peter at the front of the square called the "Reparto San Pietro."
After the Mass, the guests headed to the Vatican's Paul VI Hall, to eat a lunch consisting of Neapolitan-style pizza.
The lunch was served by some 250 of Mother Teresa's sisters, as well as 50 Brothers from the male branch of the congregation and some volunteers.
With such a high number of people invited to the lunch, the pizza was prepared by a staff of nearly 20 people who brought three of their own mobile ovens to cook in.
Mother Teresa was canonized by Pope Francis Sept. 4 in St. Peter's Square as the conclusion of a special Sept. 2-4 jubilee for workers and volunteers of mercy, which is part of his wider Jubilee of Mercy.
– cna