Pope warns Korean conflict could threaten 'good part' of humanity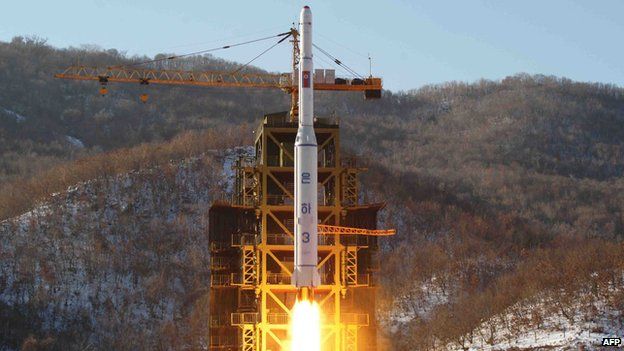 Rome, April 29, 2017: Pope Francis on Saturday called on U.S. president Donald Trump and other world leaders to reinforce the press for a diplomatic solution to the mounting crisis around North Korea, warning that a wider conflict could threaten "a good part of humanity."
The pontiff also openly called on the United Nations to "resume its leadership" to help diffuse the situation, saying the UN's role "has been a bit watered down."
On another front, Francis also told reporters he hasn't been updated by the Vatican's Secretariat of State as to whether a formal request to meet Trump during his visit to Italy next month for a G7 summit has arrived, but signaled willingness to make such a summit happen even as time is getting tight.
"I receive every head of state who requests an audience," Francis said.
His comments came during the now-customary news conference the pontiff conducts at the end of his international trips, in this case a two-day visit to Cairo, Egypt.
He was especially strong about the possibilities of war in or around the Korean peninsula, even as the North Korean government continues to conduct ballistic missile tests and the United States appears to be readying for war.
"I've called on [world leaders], and I will call on them, to work towards resolving the problems through the path of diplomacy," Francis said, asked about the prospect raised by Trump of a "major conflict."
The pontiff suggested there are potential "facilitators in the world and intermediaries who could pursue negotiations," suggesting, for instance, the nation of Norway.
"Certainly no one can accuse Norway of being a dictatorial country," he said, emphasizing that "the right path is a diplomatic solution."
Francis put his response in the context of his repeated references over the past two years to a "third world war" being fought in piecemeal fashion, in various global conflict zones.
"Those pieces have arrived and they're concentrated" on North Korea today, the pope said, adding that "it's heated up too much."
"For the future of humanity today, a wider war could destroy, perhaps not half of humanity, but a good part of humanity and its culture, everything," Francis said, apparently thinking of the possibility of the use of nuclear weapons.
"It would be terrible, and I don't believe humanity right now could take it," the pope said.
Other points touched on by the pontiff during the news conference include:
On the case of Giulio Regeni, an Italian student and political activist who was living in Cairo, and whose body was discovered in January 2016 bearing signs of torture, that the parents asked the Vatican to get involved and it's "trying to help" encourage Egyptian authorities to get to the bottom of what happened.
The pope declined to say whether he had raised what critics see as a worsening climate in Egypt under President Abedel Fattah al-Sisi for human rights and political freedom in his behind-closed-doors encounter.
"When I have a private dialogue, it remains private," Francis said.
Francis declined to offer any direct guidance to French Catholics about their choices in the country's upcoming presidential election, and frankly confessed he doesn't even know about front-runner Emmanuel Macron.
The pope said he had always had good ties with French President Francois Hollande – though conceded "we had a problem," likely a reference to a standoff about an eventually abandoned effort to name a Vatican ambassador who's gay and living in a same-sex union.
Francis briefly returned to the rise of populism in Europe, saying that it's often exacerbated by the "problem of immigration…but we have to remember that Europe was made by immigrants, centuries and centuries of immigrants," he said, "It's who we are."
On a related note, Francis played down suggestions that his use of the term "concentration camps" to refer to detention centers for refugees reflects insensitivity to the victims of Nazi camps during World War II, suggesting that he wasn't talking about Germany but facilities in various parts of the world.
An official of the American Jewish Committee had recently criticized the pope's choice of words.
"The Nazis and their allies erected and used concentration camps for slave labor and the extermination of millions of people during World War II," said David Harris. "There is no comparison to the magnitude of that tragedy."
The pope spoke at length about the ecumenical dimension of his papacy, meaning the press for improved relations among the various branches of Christianity. He said that relations with the Russian Orthodox Church right now are "very good," and praised the leader of Egypt's Coptic Orthodox Church, Pope Tawadros II, as a man of "deep apostolic zeal."
As he has on other occasions, Francis called for ecumenical relations rooted in friendship and common efforts, rather than a merely abstract theological dialogue – a "static ecumenism," he said, "doesn't go anywhere."
Francis also shared the tidbit that Tawadros is "among the most fanatical, as I am," about the quest to find a common date for Easter among Orthodox and Catholic Christians.
Francis signaled a willingness to try to reengage the political gridlock in Venezuela, after efforts by the Vatican to broker an agreement between the government of President Nicolas Maduro and the opposition faltered, but said there would have to be "clear conditions."
The news conference came on the heels of Francis's brief but intense two-day trip to the Egyptian capital of Cairo, which featured a visit to the Al-Azhar mosque and university on Friday, seen as the most prestigious center of learning in the Sunni Muslim world.
The pontiff delivered a strong call for efforts to combat religious extremism and violence, insisting that it's time to "unmask the violence that masquerades as purported sanctity." He continued that theme throughout the trip, saying during a Mass Saturday morning for Egypt's small Catholic community that "the only fanaticism believers can have is that of charity!"
During the trip, the pontiff also signed a joint declaration with Tawadros that caught the attention of many ecumenical experts because of the recognition expressed by both churches of the validity of the other's baptism – a point that has often been a bone of contention in Catholic/Orthodox relations.
– crux now