RSS slams Rahul Gandhi, says Sangh had no connection with the assassination of Mahatma Gandhi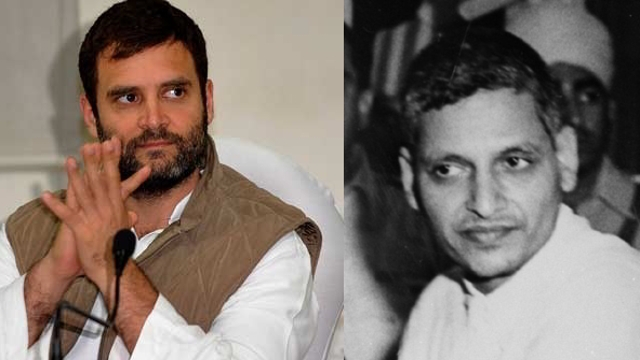 Udaipur, September 9, 2016: Reiterating its earlier stand, the Rashtriya Swayamsevak Sangh (RSS) on Thursday made it clear again that it had no connection with the assassination of Mahatma Gandhi.
Making a scathing remark on Congress vice-president Rahul Gandhi for the latter's allegation that "RSS people killed Mahatma Gandhi", the Sangh challenged that if anybody (Rahul Gandhi) has the proof, let him come forward and prove it.
"RSS is an open organisation, where people are free to join, leave or even remain inactive despite being with the organisation; but its name never figured in any case related to the assassination of Gandhi. There was no mention of any kind of involvement of RSS in the chargesheet filed with the trial court or high court," said Manmohan Vaidya, RSS national publicity chief (Akhil Bhartiya Prachar Pramukh), on the first day of the two-day All India Coordination meeting (Samanvay Sabha) of the RSS in Udaipur.
Referring to Rahul's allegation that Nathuram Godse was an RSS man, he said, "After the assassination of Gandhi, two probe commissions were set up, but none named the Sangh. Nor did the accused ever claimed of having any association with the Sangh. Judicial procedure needs to be respected. It's the job of the court to decide on a case and not those who level allegations."
Rahul, during an election speech, had said that "RSS people" killed Mahatma Gandhi and thereafter had refused to express regret for his comments. As a result, RSS activist Mahadev Kunte filed a defamation suit against Rahul.
Surprisingly, on 24 August, Rahul took a U-turn and told the Supreme Court that he never meant to blame the entire RSS for Gandhi's assassination.
A day after, he again changed his stance and said, "I will never stop fighting the hateful & divisive agenda of the RSS. I stand by every single word I said."
"The court will decide on Rahul's allegations," asserted Vaidya, when he was asked about the Congress vice-president's flip-flop on the issue.
In an indirect jibe at Rahul, Vaidya said, "These are the people who attend the meeting of those, whom our judiciary term as terrorists and hail them as well (Yeh woh log hain jo nyayik prakriya dwara ghoshit aatankvadiyon ki baithak mein jaakar unka gungan karte hain). If they have any proof (regarding RSS involvement in Gandhi's murder), let them come forward and prove it. They don't have the courage to accept the truth," he added.
An RSS functionary, who's a part of the meeting, told Firstpost on condition of anonymity, "Congress party had always played divisive politics by falsely using the name of RSS in Gandhi's assassination case. Rahul fearing wrath of the SC took a U-turn and lied in the court. And, on the very next day, he again leveled allegation against Sangh. He doesn't have the moral courage and it shows the double standard of the Congress party."
– first post