Saffron brigade opposes Yakshagana on Christ's life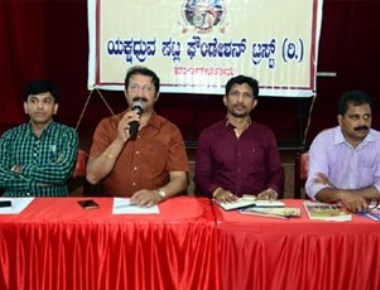 Karnataka, May 25, 2017: The decision of a troupe to stage a performance based on the life of Jesus Christ has drawn flak from right wing activists on social media. The Yakshagana Prasanga "Maha Chethana – Yesu Christa Mahathme" was penned by veteran author and playwright Mulia Keshavaiah.
On various social media platforms including Facebook and WhatsApp, allegations are being made by some that the performance is a tactic to convert Hindus to Christiantiy. Many are also calling the Prasanga an insult to Tulu tradition. The performance, scheduled to be staged on Friday in the city, aims to draw many lovers of Yakshagana among the Christian community.
Among others, a Facebook page displayed hashtags such as #HurtingTuluvaSentiments, #ItsOurCulture, etc. Right wing activists are alleging that Christian Missionaries are trying to attack Hindutva.
M Prabhakar Joshi, 75, a former Yakshagana artiste said, "The work has already seen more than 100 performances over the years. Those who speak ill about it, and are trying to attribute motives to it are not real art lovers." Joshi has, in fact, performed in a performance based on Mahachethana-Yesu Christa Mahathme. "Fundamentalists want to create tension, in order to convey a wrong message about art, which cuts across religion, country and race," he added.
K Chinappa Gowda, an expert on folklore and former vice-chancellor of the Karnataka Janapada University, who has researched Yakshagana and other art forms of Tulunadu, said art spoke of 'human religion'. "Why create an unnecessary issue over this Prasanga now? The art is not just related to any caste or religion such as Hindu, Christian or Muslim. It is for all. This Prasanga has been staged several times. Yakshagana has become a global art form," he added.
He pointed out that, if Yakshagana was identified with the Hindu religion, why would it be staged in Germany, Japan and other countries where other religions were practiced widely. "In the Prasanga, Bappanadu Kshethra Mahathme, a Muslim role is Bappa Byari is depicted. But nobody has ever questioned that so far, because Yakshagana is not about any religion," Gowda added.
– times of india