Security sought for UP Christians ahead of Christmas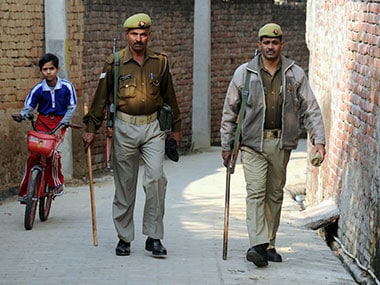 New Delhi, November 15, 2018: A Christian group has urged the Uttar Pradesh government to arrange adequate security for Christians ahead of Christmas season this year after the state witnessed a spate of anti-Christian incidents.
The Religious Liberty Commission of Evangelical Fellowship of India released a document showing the state ruled by pro-Hindu Bharatiya Janata Party under the leadership of Chief Minister Yogi Adityanath has recorded 44 anti-Christian incidents, the highest among Indian states.
"Since the Christmas Season is fast approaching, we appeal to the Chief Minister to ensure that Churches are given adequate security so that the community can observe the festival of love and universal hope in peace," said the release from Evangelical Fellowship of India.
Hindus dominate Uttar Pradesh's 220 million people while Christians make up a tiny minority forming 0.18 percent of the population.
However, the Uttar Pradesh topped the list of states with 44 anti-Christian incidents in the past two months, while 71 such incidents were documented across India.
The months of September and October 2018 have been particularly troublesome and have witnessed the maximum number of incidents in the state. September saw 28 incidents while 16 incidents were recorded in October.
The Evangelical release appealed to Chief Minister Adityanath "to restore the confidence of the Christian community by enforcing law and order and through exemplary punishment to communal elements who attack peaceful Churches and worship services on flimsy and made up charges."
It also appealed to Home Minister Rajnath Singh and Prime Minister Narendra Modi to take a note of the situation not only in Uttar Pradesh but across the country and take measures to curb impunity and to ensure the rule of law.
The increased violence against Christians this year was result of a "systematic campaign" in Jaunpur district that Christian missionaries are converting hundreds of village poor to Christianity. Attacks started and then spread to other districts like Azamgarh, Pratapgarh, Siddharth Nagar, Barabanki, Ghazipur, Gorakhpur, Agra, Kanpur and Varanasi.
"Both the police and the right-wing mobs have been disrupting worship services and harassing the worshippers. Videos have surfaced on social media, in which the police are seen blocking roads and discouraging people from attending worship services and asking them to go away," the report said.
Right wing Hindu groups attacked churches and cases filed with police accusing pastors of engaging in "conversions through force or fraud".
The documentation recorded 71 incidents of anti-Christian violence across India in September and October. Besides the 44 incidents in Uttar Pradesh, six were in Jharkhand, four in Tamil Nadu, three each in Bihar and Telangana, two each in Rajasthan, Uttarakhand, Chhattisgarh, and West Bengal. States like Jammu-Kashmir, Assam and Madhya Pradesh recorded one incident each.
A total of 195 incidents have been documented from January 2018 till October 2018.
– ucan