Taking time to listen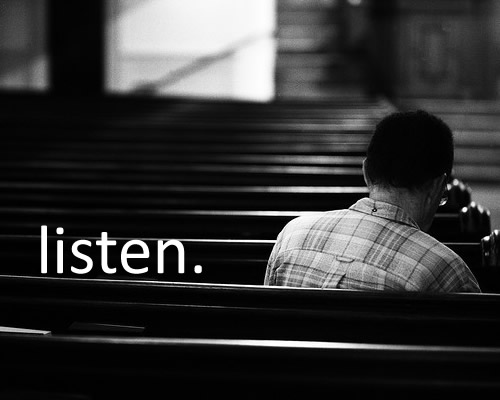 Life gets busy–especially in today's society, and especially this time of year. A few weeks back, I took on a temporary part-time position and discovered that my days suddenly got very, very full.
I was being stretched. I was out in the world a lot, being inundated with secular music and messages on every hand. If ever I needed time in God's Word, it was then.
Yet what happened? The busyness resulted in shortened Bible times. I didn't mean to shorten them, it just happened, ever so subtly. And ever so subtly, I was feeling worn-out and discouraged, and I was no longer taking advantage of opportunities to share the Lord or serve those around me. Now wonder! I was like an athlete running a race who, rather than eating and drinking extra to combat the energy he was expending, instead ate and drank less than usual!
Dear reader, I know this is a busy of year, with a lot going on. But the busier life gets, the more we need time in God's Word. How will we be able to listen to His voice, to encourage those around us with His truths, and to share Him with the lost if we are not filling ourselves with His Word–if we are not taking time to listen to His truth?
"The entrance of thy words giveth light; it giveth understanding unto the simple. I opened my mouth, and panted: for I longed for thy commandments." Psalm 119:130,131
But how do we find time? The answer to that may be different for each one of us. I know it's been different for me at different points in life. Just as we make time to eat, though, we can make the time for God's Word, as it is just as vital as a good meal. At the same time, just because you don't have time for a Thanksgiving feast in God's Word, don't miss out on having a spiritual dinner! One way or another, spend time with your Heavenly Father, seeking His thoughts and truths from His Word–His precious love letter to you.
– christian perspective