The 5 most important words about love & marriage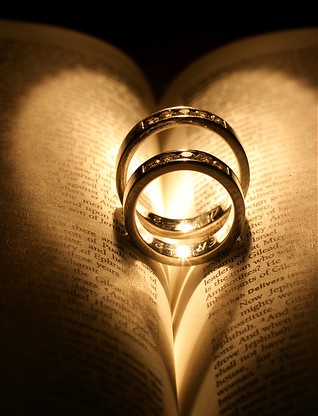 Even though Valentine's Day is more of a consumer holiday, it does get you thinking about love whether you're married or single. And if you're married, you may be reflecting on your wedding vows and how much you've grown as a couple—or possibly areas that need growth.
Trevin Wax, writer for The Gospel Coalition and editor of The Gospel Project, has written an article titled "The 5 Weightiest Words of Love" on TGC. He's got it right when he says today's weddings seem to be more focused on decorations and expenses than the five most important words spoken between a husband and wife that day:
"Till death do we part."
Wax comments,
"What the man and woman are saying is: One of us will stand at the grave of the other. In other words: I'm with you until your last breath or you're with me until mine, whichever comes first."
When couples get married the last thing on their minds is the funeral service for their spouse. Marriage is concerned with both life and death; yet, today couples are much more lax with their view of "till death do we part." No one really expects to be held accountable to these vows; these vows are more of a formality. Of course, if you are a believer and part of a church your family, friends, or pastor will probably approach you to make sure you are looking at marriage from a biblical perspective. And there are biblical grounds for divorce in the right situation: a non-believer leaves the marriage (1 Cor. 7), adultery has occurred and reconciliation is not possible (Mat. 19).
Not surprisingly, our society "chafes against the 'vow unto death,' as Wax writes, because it puts restraints on what is acceptable in culture and what is not. People in our culture do not want to be told what they can and can't do, or what is right and what is wrong according to God's Word. By not holding anyone accountable, everyone is free to do as they please and write their own story of happiness. "Self-getting" becomes more important than "self-giving."
But for Christians the concept of love in marriage is different; it "drives us to the vow," as Wax states.  He quotes G.K. Chesterton:
"It is the nature of love to bind itself, and the institution of marriage merely paid the average man the compliment of taking him at his word."
When we offer ourselves in marriage, we are committing fully to a lifelong partnership through hardship and trials 'to death do we part.' When giving someone a gift, we don't say I'm giving you this but I may take it back one day so don't hold on to it too tightly. There must be a sense of commitment in what we give and offer. Wax relays,
"The true offering of oneself is exclusive, and this is what makes marriage so costly, so adventurous, so glorious and hard."
The commitment is not easy. Paul advises the church in Ephesus:
Wives, submit yourselves to your own husbands as you do to the Lord. For the husband is the head of the wife as Christ is the head of the church, his body, of which he is the Savior. Now as the church submits to Christ, so also wives should submit to their husbands in everything. Husbands, love your wives, just as Christ loved the church and gave himself up for her to make her holy, cleansing her by the washing with water through the word, and to present her to himself as a radiant church, without stain or wrinkle or any other blemish, but holy and blameless. In this same way, husbands ought to love their wives as their own bodies. He who loves his wife loves himself. After all, no one ever hated their own body, but they feed and care for their body, just as Christ does the church—for we are members of his body. 'For this reason a man will leave his father and mother and be united to his wife, and the two will become one flesh.' This is a profound mystery—but I am talking about Christ and the church.
However, each one of you also must love his wife as he loves himself, and the wife must respect her husband. –Ephesians 5:22-33
And Matthew quotes Jesus on the matter:
Some Pharisees came to him to test him. They asked, "Is it lawful for a man to divorce his wife for any and every reason?" "Haven't you read," he replied, "that at the beginning the Creator 'made them male and female,' and said, 'For this reason a man will leave his father and mother and be united to his wife, and the two will become one flesh'? So they are no longer two, but one flesh. Therefore what God has joined together, let no one separate." –Matthew 19:3-6
Wax concludes,
"The weightiest words of love link the wedding altar to the coffin. They focus our attention not on a fleeting feeling of love, but on the vow of commitment – to be an unbreakable source of faithfulness no matter what may come, for richer or poorer, in sickness and in health, till death do we part. It's the promise unto death that makes marriage come alive."
– cross walk