Triple talaq bill politically motivated: Muslim, women's groups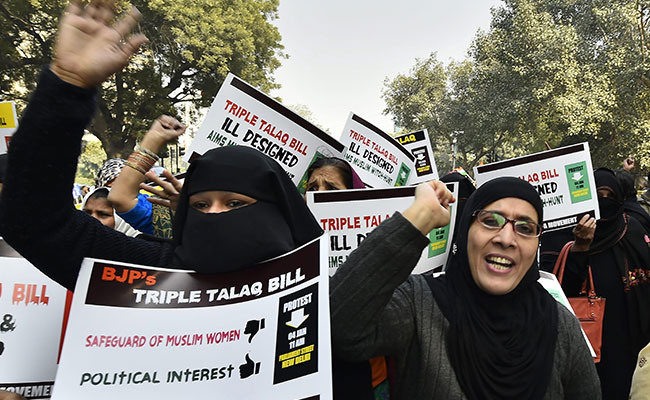 New Delhi, January 13, 2018: The triple talaq bill, unilaterally drafted and brought by the Narendra Modi government, is politically motivated, feels the Muslim intelligentsia cutting across sectarian lines and schools of thought — but they are happy that the controversy has created awareness in the public mind about the evils of the practice.
Is the saffron party indeed serious about addressing the root issue of the social evil called instant divorce, and wants it stopped, or is it indulging in political posturing? The latter, say an overwhelming majority of stakeholders — from "fundamentalists" to liberals, Islamic clerics and women rights activists.
They think that the bill in its present form cannot stand judicial scrutiny.
"It's an atrocious piece of legislation which is against the constitution because it discriminates on the basis of religion," Irfan Ali Engineer, Director, Centre for Study of Society and Secularism, Mumbai, told IANS.
Irfan, son of acclaimed reformist-writer and social activist Asghar Ali Engineer, and a petitioner in the Shayara Bano case, explained: "It is discriminatory on the ground that if a Muslim man divorces his wife in a particular way, he would be jailed. But if a man of other religion abandons his wife, there is no legal action against him."
He said there is "no doubt" the legislation is "politically motivated".
Jamat-e-Islami Hind General Secretary Mohammed Salim Engineer said he could not understand the objective of this legislation.
"If the said bill had held three talaqs (divorces) as one, it would have made some sense. Which would mean that a divorce will not take place no matter how many times a man utters the word 'talaq' in one sitting, and which is in consonance with several schools of Islamic jurisprudence," he said.
All India Muslim Majlis-e-Mushawarat Chairman Navaid Hamid had a similar view: "This bill is clearly faulty. In many Muslim sects, talaq pronounced thrice is treated as only one talaq. But this bill would hold a person of any sect guilty no matter if as per his belief irrevocable talaq has not happened."
The government moved the Muslim Women (Protection of Rights on Marriage) Bill — which proposes a three-year jail term for a man pronouncing irrevocable triple talaq — in the Lok Sabha on December 28 last year and got it passed the same day despite opposition's pleas to send it to a parliamentary committee. However, the Bill was stalled in the Rajya Sabha where the BJP and allies are in a minority. The government has said it is open to "suggestions" if these are "reasonable".
Yasmin of Awaz-e-Niswaan, a women rights collective and an intervener in the triple talaq case, said that she and other activists had welcomed the Supreme Court's August 22, 2017, decision to ban the triple talaq but the legislation brought by the government serves no purpose other than "furthering the BJP's agenda".
"We are against criminalistion of talaq. The Domestic Violence Act and the Section 498A of IPC are already in place to deal with any atrocities or violence against women, and which equally apply to Muslim women. So there is no need for a separate law… It looks like a conspiracy," Yasmin told IANS.
Other women's bodies such as Bebaak Collective and the All India Democratic Women's Association (AIDWA) have publicly slammed the triple talaq legislation for its flaws and inherent contradictions.
Interestingly, the Muslim organisations that are against banning the triple talaq, activists and women bodies which wanted it banned and the opposition parties in Parliament have expressed concerns over the consequences of sending a man to jail for as long as three years.
Who will provide for the woman in her husband's absence? Shouldn't the government form a corpus for such women's financial assistance/pension? Will the marriage remain intact even after the husband is jailed purportedly on the complaint of the wife? Are women's rights safeguarded through this law in cases of other forms of divorce?
These are some of the questions raised by the critics of the bill and the political opposition inside Parliament. The government hardly attempted to assuage such tangible apprehensions and mostly resorted to an abstract emotional appeal that "the bill gives Muslim women their rights and dignity".
Shia cleric Maulana Kalbe Sadiq, who is opposed to instant divorce and wants it abolished, could not find a reason to justify the penal provision in the bill.
"In Shias, there no such thing as talaq-e-biddat. The penal provision is not right, but so is not talaq-e-biddat. Even our Sunni brothers say that this is sinful," he said.
The All India Muslim Personal Law Board (AIMPLB), the most vocal body in matters pertaining to Muslim Personal Laws, has already denounced the Modi government's attempt to "encroach through this bill upon the Muslims' fundamental rights guaranteed in the Constitution" and has termed the bill as uncalled for and unnecessary after the Supreme Court ruling has rendered triple talaq as null and void.
"In case your government considers it necessary to enact a law in this respect, consultations must be held with AIMPLB and such Muslim women organisations which are true representatives of Muslim women," the AIMPLB has said in a letter to Prime Minister Modi.
The plea highlights the general grouse — that nobody was consulted while drafting the bill. Let alone the hardline Muslim clerics, even the liberal opinions including those of various women bodies, were not sought by the government.
People like Irfan Engineer feel that a law is required to address the issue, but it should be "comprehensive".
"We need a comprehensive legislation, one that safeguards the rights of women in case of divorce, but at the same time it should not make the divorce process cumbersome and unendingly long," he opined.
However, amid the heat of discussion on tripel talaq, Zafarul Islam Khan, Editor of fortnightly Milli Gazette, sees something positive in the whole discourse.
"One benefit of this entire brouhaha has been that common people have got some awareness about the evil of triple talaq. Also, clerics have started accepting that triple talaq is wrong and it should be weeded out. In fact, all of us want this practice banished," Khan said.
He also advised the Muslims to "not react" to and "ignore" the bill. "Because provoking Muslims to polarise the society precisely seems to be BJP's objective," he added.
– tcn