Under the faith microscope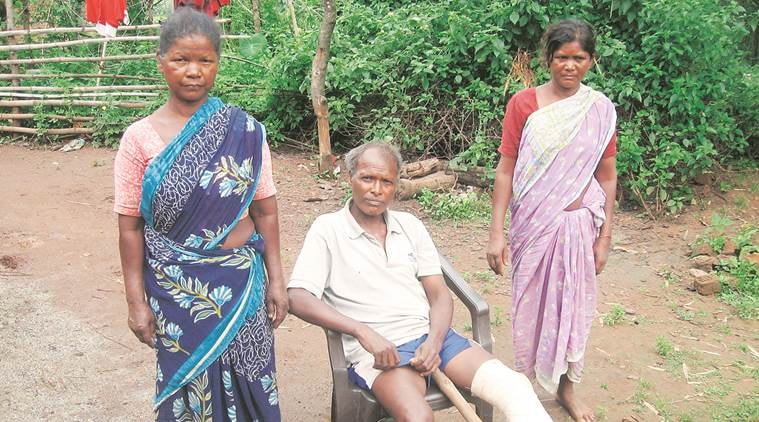 Jharkhand, August 13, 2017: There is no way to tell whether Sukra Munda, a tribal aged around 60, from Singhpur village near Ranchi, is a Christian. He displays no religious symbols on his person or at his mud house, since he converted around two years ago.
His son Sunil Munda continues to follow the rituals of their traditional Sarna faith, and says he has no plans to convert. However, he admits he feels the pressure sometimes. "My father objects to the tribal rituals. We can't eat the prasad given to us by the Sarnas." So, once in a while, Sunil visits the church, a Roman Catholic parish catering to Christians of around a dozen villages in the area.
With the Jharkhand government on Saturday passing the Religious Freedom Bill, seeking to penalise religious conversions through coercion or allurement, it's families like the Mundas who find themselves under the faith microscope. The Bill penalises those involved in converting people by coercion or allurement, entailing imprisonment of three years with fine of Rs 50 lakh or both. Those who covert on their own must inform a designated authority about the place, time and the person in whose presence they converted. The Bill has now been sent to the Governor for the President's assent.
The rules and regulations are yet to be fleshed out, but in this area of interchanging faiths, the uncertainty is back. Four years ago, the Mundas' village, in Ranchi district, had found itself at the centre of a row over a statue of Mother Mary depicted as a tribal woman.
Sukra explains why he chose the Church. "My youngest daughter had pain in the legs that wasn't getting cured. I took her to the ojha (the village exorcist), but he couldn't help. Then, the father-in-law of my eldest daughter told me I should go to the church. I went and my daughter got cured. Since then, I have become a Christian."
Sixty-year-old Pukli Munda, Sukra's neighbour, says she did the same six years ago after the pain she had around her waist for a year got cured once she started going to the church. She insists the pain healed with prayers, without doctors or medicines.
Pukli and husband Gondhra Munda and his first wife Khiniya all live in the same house, in a relationship not unusual for tribals. Unlike her, they follow the Sarna faith. Pukli says she observes all major tribal festivals too, like Karma and Sarhul, but by going to the church on those days. "I watch the tribal dance and festivities, but do not take any prasad. Similarly, they do not join me for Christmas at the church," she says.
Villagers give example after example of such "split" families, mostly two or three in each hamlet. The number of Christians in Singhpur has been rising over the past three to four decades, and in some of the villages around, the Sarnas and Christians now are almost equal in number.
Overall, Christians comprise 4.3 per cent of Jharkhand's population, as per Census 2011, while the Sarnas are 12.84 per cent.
Badhwa Tirkey, a Sarna follower who backs the proposed religion Bill, says, "A few families in our basti (Katari Toli in Singhpur) converted even before we were born. But, in the past couple of decades, we have seen families converting to Christianity gradually but steadily."
Medical aid is cited by almost all as the reason to convert; the nearest primary health centre from Singhpur is around 10 km away, and most villagers still trust the ojha. The Catholic Mission started a dispensary a few years ago.
Not all of those cured, however, convert. Like Sunil Munda, of Katari Toli. "Two years ago, I was bedridden for nearly a year. I had bedsores. They came and offered prayers. It was free of cost. After that, I began to improve. Then I began going to the church. However, when they started suggesting that I should convert, I stopped."
The 23-year-old asks if he can get some stipend or allowance from the government on account of his partial disability.
In some cases, love played a role. Shyam Tirkey, also of Katari Toli, talks of a boy who converted as the Christian girl he wanted to marry insisted on a church wedding. "He said he would kill himself if not allowed to marry her. We had to let him, as, after all, we have to live in harmony."
Despite some rare incidents and the current strain, this harmony has endured. In Sithio, around 4 km from Singhpur, a dispute had arisen nearly two years ago over installation of a Christmas Star at the 'Akhra', the sacred meeting place for the Sarnas. "The Sarnas and Christians are 60:40 here. They uprooted our Sarna flag to install their Christmas Star. The panchayat decided that both would remain installed," says Sukhram Kachchap. The status quo remains.
But some Sarna youngsters now doubt the "tribalness" of the Christians. "What if the government announces some benefits for the Sarnas? They (the Christians) will return to the fold. They are double-faced. They do so only to take the benefit of being a tribal and also a member of the minority community," says Manoj Munda. However, asked to pinpoint the specific benefits supposed to have accrued to his neighbour Sukra, after he converted, Manoj shrugs.
On the Singhpur church's sprawling premises, the Mother Mary in tribal dress continues to stand, but encased in glass. The other statues on the platform depict the usual stories from the Bible, including of Jesus's birth. None of the figures resembles a tribal.
When the Mother Mary statue first came up, on May 26, 2013, the Sarna tribals had accused the Church of "appropriating" their legacy. Head priest Father Virender says that in the two years he has been at the Singhpur church, nothing untoward has ever happened. "I meet Sarna gurus off and on, we eat together. We celebrate our festivals, they celebrate theirs. There is absolute peace now."
There was no ulterior motive in depicting Mother Mary as a tribal, he adds. "We are tribals. Therefore, it is only natural that we see our Lord in tribal settings. There are no rules that Mother Mary should be depicted only in a certain way," he says.
However, Father Virender admits the tension did leave one imprint. "Earlier, we would go to offer prayers in the house of non-Christians too if we came to know they were ill. Now, we go only to the Christian houses, unless called specifically by the others. Mostly though, if anybody needs help, they have to come here." The other draw the Church holds for Singhpur and other surrounding villages is schooling. There is one government primary school in Singhpur, but very few go there. The Prabhat Tara High and Medium School, run by the Catholic Mission, has 1,300 students.
Claims Sanjeev Lakra, a resident of Dongri Toli, another basti of Singhpur, "They don't take fees from Christians. We used to pay fees because we were non-Christians… Ek dum se nahin dharm badalta hai, dheere-dheere kheenchata hai (They don't change your religion suddenly, but pull you gradually)." However, pursuing graduation from a Ranchi college, Lakra admits that even a small thing like waiving off of fees means a lot to poor tribals.
Prabhat Tara Principal Prakash Kujur denies any fee discrimination. "If we have a scheme, it is for all. There are cases where we waive fees because the parents are poor… Only some 200-300 of our students are Christians."
The Christian bodies know where charges such as those levelled at Prabhat Tara School can lead. "This law says allurement is not allowed. But if we go set up a medical camp, if we set up a hospital or a nursing home or dispensary, if we set up a school, will you consider it allurement or service? And, under the Constitution, I am free to profess and propagate my religion. We want the government to clarify what exactly would amount to allurement," says Deepak Tirkey, secretary of the Rashtriya Isai Mahasangh (Jharkhand Chapter). It plans to petition the Governor against the Bill.
Jharkhand Vikas Morcha (Prajatantrik) leader Bandhu Tirkey, a tribal Christian, says the law will only give a handle to right-wing organisations to harass the Church. "We know their game. They will first go to a church, then come out shouting they are being forced to convert. A case will be made out." Tirkey dares the BJP government to allow the Sarnas to have their own religious code, which has been a long-standing demand. "They won't do it, because their organisations are also involved in bringing tribals within their fold," he charges.
Ashok Bhagat of Vikas Bharti, an NGO backed by the RSS, who was awarded Padma Shri by the NDA government in 2015, denies this, saying they are all for preservation of the Sarna tradition. "Be it our Ekal Vidyalayas or Shishu Mandirs, we never ask anybody to worship a particular god in a particular way. Even Muslims study in our schools," he says.
However, Bhagat does believe that the Sarnas are close to Hindus. "They worship nature, Hindus too worship nature. There is an affinity."
Krishna Kant Toppo, a former secretary of the now-defunct Sarna Central Committee — an elected body meant to look after Sarna issues — wonders if anyone really cares for the tribals. "A law would be a good starting point. At least there would be an express provision that could act as a deterrent. However, the best thing would be the Sarna code, which would enable us to get enumerated in the Census as a separate religion. Otherwise, we stand to lose our tradition both ways. Some give in to the Church, others migrate, and a few of them get to recite Hanuman Chalisa in the morning," he laughs.
– indian express