What are Christians facing in Nepal? Nation debuts on list of worst persecutors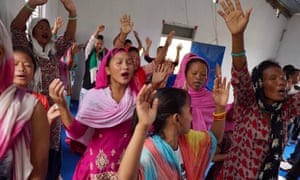 Nepal, February 3, 2018: Nepal is known for its ancient history and breathtaking mountain peaks. But the South Asian nation not only debuted this year on Open Doors World Watch List of nations where Christians face the most persecution for their faith, it also landed as high as the No. 25 spot.
Why?
The key is to understand that although the government presents Nepal as a secular country, it's practically run by Hindu forces, said Pastor Bharat Giri, a full-time Christian minister of 24 years, who is now the chairman of a political party seeking to inspire and encourage Christians to stand up for their rights.
"We are dominated by India," Giri told The Christian Post, explaining that the injustice, negligence of people's needs, corruption, and human rights abuses affecting minority religious groups are on the rise.
"They are promoting only the Hindu people," he explained, noting that the minority Christians, Muslims, and Buddhists in the country are often left behind.
One of the major factors behind Nepal's deteriorating religious freedom rights has been legislation signed into law in October 2017 that criminalizes religious conversion. Giri said that it's heavily used to punish those who decide they want to become Christians.
C.B. Gahatraj, general secretary of the Federation of National Christians in Nepal, and other Christian leaders have demanded that the clause against evangelism be struck down, declaring that believers are not "vote banks" that can be lied to by politicians.
Giri spoke of several cases where Christians have suffered the consequences of anti-evangelism sentiment, even before the passage of the law last year.
"One-and-a-half years ago, in one district, Christians were giving out Christian tracts. And because of that, they were put in jail for nine months," he said, noting that the group of six to nine Christians was released, but the case is still going on.
Six months ago in East Nepal, there was another Christian woman who was "taking care of children, the poor children. She did not have money," the pastor said.
She was pressured by the government to come with the children to Kathmandu, the capital, but then she was arrested, charged with converting others to Christianity, and jailed for three months.
The woman was released after the initial jail period, but the court has now announced that she will have to spend three years in prison for the crime of religious conversions.
Not only that, but those who helped her and the poor children have also found themselves in serious trouble.
"I met this morning with one of the pastors in Kathmandu who was helping feed the children, and he was also told that he would be going to prison for one year," Giri said.
He noted several other incidents across the country where Christians are ending up in jail simply for their beliefs, arguing that believers can be accused by anyone at any time and end up behind bars.
"The whole justice system, the judges are Hindu," he said.
Other religious minorities have also been affected — Buddhists who eat cow meat have been jailed for killing an ox, which offended Hindu sensitives that deem cows to be sacred.
"They say this is a secular country, but they are continuously pushing people to jail" for their religious beliefs, Giri shared.
As CP reported in a separate exclusive interview last year, another major problem facing believers in Nepal is severe restrictions when it comes to burial rights. Unless they have the money, many believers are unable to bury their loved ones in accordance to Christian practices.
Gahatraj said at the time that Hindus sometimes force Christians to dig up the remains of their loves ones if they are buried in land where they are not allowed.
"If Christians refuse to dig out the bodies of their relatives, in some cases Hindu radicals have themselves dug out the bodies, and taken the bodies to the Christian relatives' home, and in other cases have just left the dead bodies on the streets," Gahatraj said of the gruesome consequences.
Giri confirmed that the government "doesn't allow us the land."
"Some areas where the local leaders are gracious, some parts of the land are given" to Christians to use for burial.
But when Christians do not receive such generosity, or they have no money to pay for land, then they have to either burn the bodies, or pay money to forest workers who arrange for the bodies to be buried in the forests.
There are widely different estimates on the number of Christians living in Nepal. Monitoring groups such as Open Doors put the number at around 403,000 out of 28.5 million people, though Giri said that exact data is hard to come by.
He estimates that today there are about 1.5 to 2 million followers of Christ in the country.
The problem, he said, is that for a variety of reasons, they are failing to stand up for their rights and respond to the intensity of the persecution.
"Christian people, in the name of forgiveness, are not rising up," Giri noted.
Some Christian leaders, on the other hand, receive certain benefits from the government, which keeps them quiet, he suggested.
That is why a year-and-a-half ago, the AP Messiah Party was formed, aiming to be the voice of Christians before the government.
"We are trying to convince people that if one day God allows us to be in parliament, then we will see changes in Nepal," Giri said.
As a small party, it faces challenges, such as a lack of resources, but it is looking to explain to others that it can offer an alternative to the established political parties, which Giri said are still in the "18th century" when it comes to human rights.
Giri himself has been advised to not speak on the topic of Christian persecution, but when it comes to the risks for his safety, he said: "I know my Jesus and the Word of God. Without God's Word, even the boar cannot fall down on the ground. I am dependent on God."
The World Watch List
Open Doors USA, which could not confirm in a separate interview with CP whether Nepal is the highest-ever debutant on the World Watch List, still described the country as "landing stunningly" all the way up to No. 25, due to religious nationalism spilling in from India.
David Curry, CEO and president of Open Doors, explained that the high-number debut of Nepal is significant, and is a "direct result of them adapting a similar mindset to nationalist Hindu philosophy that is justifying restriction of Christian rights."
Curry said that his organization does have ministry partners in the area, and that they are navigating day by day "the new era" for Christians there.
"The Church is trying to adjust quickly to how they can practice their faith peacefully," he said.
He offered that it would not be wrong to say that there is a strong movement of Christian faith in Nepal, which is one of the reasons pushing the government to tighten restrictions on non-Hindu faiths.
The government often accuses Christians of being propped up by foreign forces, but the Open Doors CEO disputed the claim.
"There are millions of Christians in India and a significant local indigenous church in Nepal that love their country, and they want to have the right to practice their own private faith," he said.
One particular focus of the latest Open Doors report, released in January, has been the rapes and severe sexual attacks Christian women around the world have suffered, specifically for their faith in Christ.
Open Doors documented 2,260 such cases throughout 2017, though Curry said that the numbers include only those brave enough to speak out about their experience, and cases where it could be proven that the assaults they suffered was because of their religious beliefs.
While attacks happen all over the world, they are especially prominent in Hindu majority and Islamic majority cultures.
"What you see in Islamic cultures is they attack Christian communities by raping the women and forcing them into marriage. You see this in northern Nigeria, you see this in other parts with Boko Haram," Curry said, referring to the Nigerian terror group that has been targeting believers.
He said that Islamic radicals try to find "twisted justification" for their treatment of women through their belief in a holy war against nonbelievers.
Curry said he doesn't know how Hindu theology would interpret such issues, but said that as attacks are "on the rise, it is something to watch."
He warned that governments that allow the mistreatment of Christians can often expect other human rights atrocities to take place as well.
India, whose cultural politics are affecting Nepal, has seen many cases of violence against Christians go unpunished — 645 to be exact, according to Curry.
One specific example he recalled was the story of a nun working to help poor people at a medical clinic in the South Asian country, but was told by extremists that they didn't want her doing work in Jesus' name.
"And then they raped her, and everything kicked into place — the justice system, the police force, all of them sympathizing with the extremists. They overlooked or shredded evidence, and the attackers were acquitted, and it was a great injustice," he lamented.
As for what the U.S. and other Western governments can do to tackle religious persecution around the world, he pointed to U.S. President Donald Trump's announcement earlier in January that he would suspend security aid to Pakistan until the country starts cracking down on extremist factions.
"The government has the right to say, 'If we are going to do business together, if we are going to be partners in the international community, we expect you to uphold basic human rights,'" Curry said.
– christian post