When the nation is charged up, for vengeance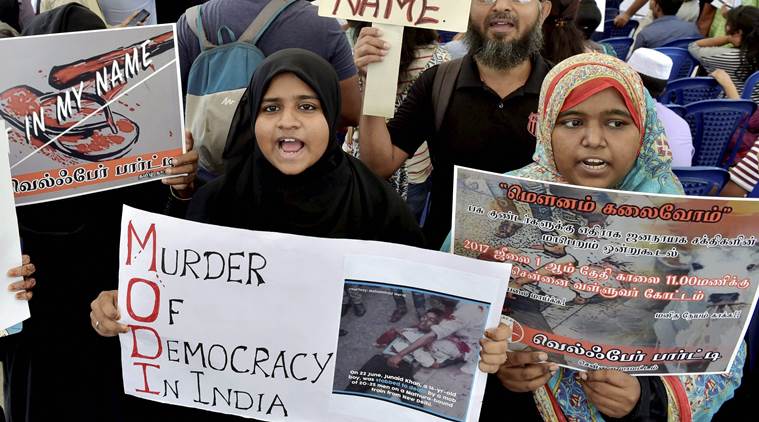 India, July 7, 2017: What happens when the state gives moral sanction to violence? When through its silence, it validates target killings? When through its actions, it penalizes the victim and pardons the accused? When instead of outright action against those who lynch, torture and brutally kill in broad daylight and among dozens of eyewitnesses, it starts a police or judicial inquiry to question the innocence of the dead?
A couple of months ago, when Mashal Khan was lynched on alleged blasphemy charges in Pakistan's Khyber-Pakhtunkhwa, chief minister Pervez Khattak confidentially issued a statement saying that a judicial inquiry should be held as there was no evidence that Khan had committed blasphemy.
Perhaps, if the deceased had been found guilty by the inquiry, the actions of the mob that killed him would have been deemed appropriate. Just like Mumtaz Qadri, the man who shot Punjab governor Salman Taseer 28 times in 2011, in an upscale neighbourhood of Lahore. He was hailed as a ghazi, a Muslim fighter who fights non-Muslims, by thousands of his supporters, including dozens of educated lawyers.
Qadri believed that Taseer's efforts to amend the controversial blasphemy law in the country were blasphemous in itself. Today, a shrine built on the outskirts of Islamabad welcomes his followers and encourages them to seek his blessings and commend his bravado. Earlier this year, an 'urs' to commemorate his death anniversary was held. After all, he had performed the ultimate selfless act of giving up his life in the name of Islam.
On the other side of the border, in India, the story of Mohammad Akhlaq, killed at the hands of a mob in Dadri, Uttar Pradesh in 2015, still resonates strongly. An FIR was registered against Akhlaq's brother and other relatives for cow slaughter. The meat that was found in Akhlaq's freezer was sent for testing- to verify whether it was beef or not; in other words, to verify whether his ruthless murder was justified or not.
According to the police, 'The meat was sent for forensic test following the demands of the agitating villagers,' many of whom were probably directly responsible for Akhlaq's death, marching to his house after hearing rumors of cow-slaughter, blood-thirsty and seeking vengeance as self-proclaimed vanguards of religious beliefs.
It is not as if cow vigilantes and self-proclaimed ghazis need state legitimacy to carry out the violent actions that they engage in. However, when the state itself remains silent against such heinous crimes, when the state itself begins to question whether it was beef in the freezer and whether blasphemy was indeed committed or not, it sends a clear signal to the public that their acts are justified if the accused are found guilty, that they can take the law in their hands if their religious beliefs are offended.
In face of this, isolated statements issued by both prime ministers condemning the acts hold little value. It is often a case of too little, too late. The nation is already charged up, the fire for revenge and vengeance ignited and unwilling to be quenched by grand statements in between the deafening silence exercised by state representatives.
In an atmosphere where religious nationalism is on the rise on both sides of the border, a clear line is drawn between the sacred and the patriotic and the profane and treacherous. Beefeaters, blasphemers and anti-nationals are becoming synonymous terms. More often that not, religious minorities find themselves on the wrong end of this division.
In India, 70 years after Partition, the debate between cow-eaters and the cow-worshippers has once again emerged. Muslims are being targeted on suspicion of eating or possessing beef. The latest victim is Alimuddin Ansari of Jharkhand, beaten up by a mob on the suspicion that he was carrying beef. It is believed that 86% of the victims since 2010 are Muslim, that 97% of the reported cow-related attacks have taken place since the Modi government came to power.
On this side of the border, the number of blasphemy accused, both Muslim and non-Muslim have starkly risen over the past few decades. Religious minorities particularly find themselves in a precarious position.
A couple of years ago I visited Shanti Nagar in Pakistani Punjab, where a mob burnt hundreds of Christian homes on blasphemy allegations. An FIR was filed against the villagers for allegedly tearing up pieces of the Quran.
When I visited a school in the vicinity, one of the Christian teachers who had survived talked about the horror she had witnessed in 1997 when her own Muslim students charged towards her and others in the village to burn them alive.
Another Christian man that I interviewed in Lahore, shook his head at the state of affairs of the country and remarked, 'Do you know how much power you wield as a Muslim? If you go out now and yell in the streets that I have commit blasphemy, a mob will descend upon my house and I would have no chances of surviving.'
I left his house that day, embarrassed by the very power that had been thrust upon me at birth, with no doing of my known, and frightened of the vulnerability he constantly lived with, simply because he believed in a different faith.
Question is, haven't these decades of separation taught us anything? The self-righteous vanguards of patriotism and religious belief have invoked cow slaughter and blasphemy allegations to bloody the streets and alleys on both sides of the divide. Religious fanaticism is not limited to any one faith or nationality; it has become a toxic web devouring both nation-states.
– indian express