Why are they killing people in Catholic Philippines?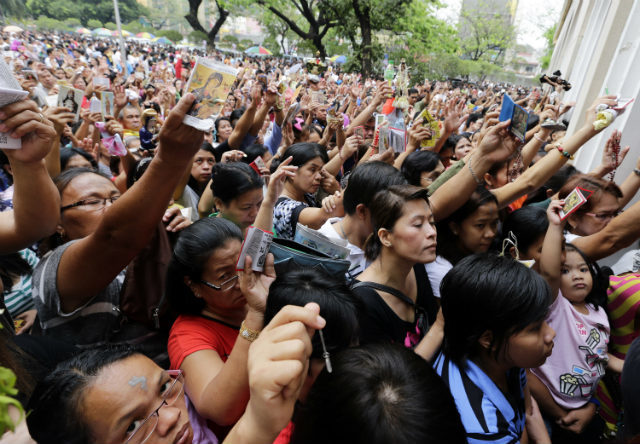 Manila, December 7, 2016: In just four months, about five thousand people — at least 4,485 suspected drug users and dealers to be exact, according to the Philippine National Police — have been killed in this predominantly Catholic country.
The war against illegal drugs was President Rodrigo Duterte's main platform when he campaigned for election last year. Some 16 million voters, many of them Catholics hungry for social change, welcomed it.
Having received a huge mandate from the electorate, Duterte immediately started a "total war" against narcotics and imposed a deadline of three to six months to solve the country's drug menace.
The rise in the number of killings seemed to have been prompted by the president's statement in July when he exhorted Filipinos to "go ahead and kill [drug addicts] yourself as getting their parents to do it would be too painful."
In August, the president said: "I'd like to be frank with you, are [drug users] humans? What is your definition of a human being?"
The nearly 5,000 death toll is no cold statistic. Contrary to the sacredness of life, each case of extrajudicial killing signifies irreparable loss to the hapless victims' families, left behind with almost little or no possibilities for redress.
Upon clear orders from the Philippine head of state, without qualms, the perpetrators kill with complete impunity.
Senator Leila de Lima's extraordinary courage to investigate the killings proved almost futile. The government used all means at its disposal to twist information, silence witnesses, oust her as the head of a probe body, and worst of all, malign her dignity.
The Philippines is looked upon by the international community with eyes of condemnation for the systematic and gross violations of human rights these days.
United Nations Secretary-General Ban Ki-moon declared in a statement: "I unequivocally condemn [Duterte's] apparent endorsement of extrajudicial killings, which is illegal and a breach of fundamental rights and freedoms."
Other U.N. bodies have expressed concern about the rise in the killings of suspected drug users and dealers in the Philippines.
In retaliation, Duterte, the head of a country that is a U.N. founding member and a member of the 47-seat Human Rights Council, responded: "Maybe we'll just have to decide to separate from the United Nations. If you are that rude, son of a bitch, then we'll just leave you."
The Philippines will be subjected to the third cycle of the Universal Periodic Review in May 2017. Its human rights performance will be reviewed by its co-member states.
The Permanent Mission of the Philippines to the U.N. in Geneva appealed to other states to understand why the Philippines needs to wage war on drugs. In a side event on drug-related killings, the Philippines said "there was no shoot-to- kill order, but pronouncements of the president proved otherwise."
More recently, the International Criminal Court, through its chief prosecutor, Fatou Bensouda, said: "Let me be clear: Any person in the Philippines who incites or engages in acts of mass violence including by ordering, requesting, encouraging or contributing, in any other manner, to the commission of crimes … is potentially liable to prosecution before the court."
More than 4,000 lives lost in four months! One life lost is one too many. Why the absence of a strong organized protest? Why the deafening silence of most in the Catholic Church? Why the reluctance of organizations, which used to condemn killings of the previous administration, to categorically condemn the present killings?
Human rights are universal. All victims have the same basic right to life. Yet, the defenseless poor are stripped of the inalienable right to life when bullets judge a person guilty before proven innocent. Silenced, forever, he or she leaves his wailing family in shock and grief — trapped in the perpetual cycle of poverty and social injustice.
The litany of cases of extrajudicial execution is confronting the government.
"Then there you are, sprawled, and you are portrayed in a broadsheet like Mother Mary cradling the dead cadaver of Jesus Christ. These people, we'll be doing dramatics here." So said Duterte in his first State of the Nation Address in July.
"I would be happy to kill 3 million drug addicts…. If Germany had Hitler, the Philippines would have [points to himself]."
What has become of the predominantly Christian country in Asia?
Mary Aileen Bacalso is secretary-general of the Asian Federation Against Involuntary Disappearances. For her commitment to human rights, the government of Argentina awarded her the Emilio Mignone International Human Rights Prize in 2013.
– ucan