Why Christians' fear of Hindutva could halt BJP's juggernaut in Meghalaya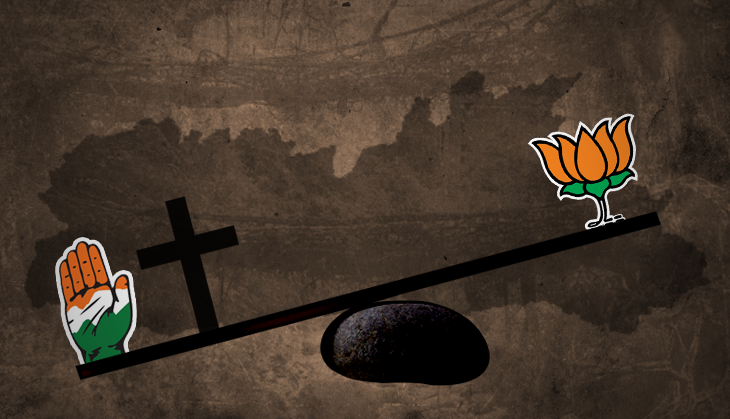 Meghalaya, January 13, 2018: The Bharatiya Janata Party has successfully managed to make inroads into the Congress bastions in the North East, having won Assam and Manipur and conducting a political coup in Arunachal Pradesh. However, its juggernaut might hit a roadblock in poll-bound Meghalaya. Here the Christian community, which forms over 70% of the state's population, is apprehensive about the BJP due to the attack on minorities in other parts of the country, in particular the attack on carol singers in Madhya Pradesh and the violence by cow vigilantes across India.
Christians feel the BJP could try to saffronise the state by interfering in their food habits and pushing their Hindutva agenda. Dominic Jala, Archbishop of the Roman Catholic Archdiocese of Shillong, pointed how there is a growing sense of unease amongst the Christians regarding the BJP.
The Archbishop's view
"What makes our people worried is the rise of the persistence of attacks on minorities as individuals or as institutions in some parts of our country. In Meghalaya, they have adopted a language that seeks to keep these incidents behind an assurance that nothing of the sort will happen in our state. This may be true. But we cannot ignore the persistence of anti-minority incidents. Our people will be the best judge," Jala said.
There is also a considerable fear amongst the Christians that if voted to power, BJP and RSS would push forward its Hindutva agenda and try to convert Christians into Hindus. Responding to this, the Archbishop pointed how the Church does not call Meghalaya a Christian State and will also not envisage a time where it becomes a Hindu state.
"India, North East India and Meghalaya for that matter, are all marked by diversities. Any attempt to flatten out differences by a kind of imposition of one culture and one language theories is an act of violence against our own heritage. It only reminds one of a leader in Europe who tried to do that between the two World Wars – and with what consequences! The Church stands by the dignity of every single human person. It respects and protects the integrity of every culture," he added.
He, however, claimed that the Catholic Church remains completely apolitical and keeps out of party politics as a policy. He informed how few members of the Catholic community have joined the BJP and, probably, will stand as candidates in the upcoming polls.
"We do not interfere in their personal choice. It is up to our people to accept them or reject them. They are wise enough to make a choice," he said.
Another religious head of the Christians concurs with the Archbishop Jala and said that he shares the worries of many who interpret the attempt of the BJP to capture power in all the states in order to carry out their own agenda which are connected to a particular religious leaning. Articulating fears of his community, he said that BJP coming to power in most of the states could lead to an attempt being made to change the Constitution of India, by removing, for instance, the definition of our country as a "secular" entity.
"There will certainly be a number of legislations and acts that will be passed which will greatly hamper our own freedom to work for the development of our people all over the country through our educational and social involvement. I do not see this kind of discourse coming up in the political discussions here. It looks as if BJP is harping only on attacks on religious persons and institutions and on the question of food habits of our people," he said.
He goes on to add that as Church leaders, they have the task of exhorting their people to exercise their franchise and keep reminding them that what we need are legislators who are concerned about the development of our people in a true and concrete way – and not only through speeches given during election campaigns. "We certainly will remind our people that we need legislators who will stand by the Constitution of India and ensure that all people, no matter what their race or creed or caste may be, have freedom to be what they are without any interference from any force, government or otherwise."
BJP's calculations
Prof K Debbarma, who heads the political science department at the North-Eastern Hill University in Shillong, is of the opinion that there is no denying the fact that BJP is trying to gain a foothold in the region and will succeed in winning some seats. According to Debbarma, the election campaign is at a very nascent stage and only when it gains momentum, can one predict who could emerge as favourite to win.
"A lot would depend on what issues these parties raise and what their manifesto says. However, I do not think that BJP would be able to form government on its own. Though other regional parties have distanced themselves from BJP but the likelihood of them having a post poll understanding cannot be ruled out. Therefore, it remains crucial whether the people of the state see through this strategy of the BJP," he pointed.
He does add that no political party would cross the majority figure and the next government in the state would be a coalition government. However, he does not rule out the possibility of BJP forming the government with the help of allies like it did in Manipur and Arunachal Pradesh.
"If you look at the number of Congress MLAs joining BJP, it shouldn't come as a surprise if BJP manages to win over independents and even Congress lawmakers once the results are announced. A repeat of Manipur and Goa can certainly happen in Meghalaya too," Debbarma warned.
However, BJP leaders remain confident of forming the government in the state with a "three-fourth majority". A BJP leader from the North East said that the people of the state are fed up of the Congress government and are looking forward to change. On the question of Christians being wary of voting for BJP, he reminded how the party is in power in Nagaland and Manipur where Christians are in significant numbers.
According to him, Church would not interfere in politics and certainly not side with the Congress. "Religion won't be a factor in these elections. It would be all about development. Christians are smart enough to know what BJP is fighting for. Moreover, regional parties like National People's Party (NPP), United Democratic Party, among others are part of BJP's North East Democratic Alliance and will help BJP form government in the state."
On the issue of Congress regaining power in the state, he just laughed it off and said how the Congress is imploding in the state with central leadership busy with other issues. "When their leader should be campaigning in Shillong, he is going to Bahrain. Moreover, did you notice how Congress leaders are joining BJP in droves. Such is the state of the party that it might run out of candidates even before the polls are announced," he added.
According to him, many other senior leaders are waiting to leave Congress to join BJP which he said offered them hope. Since December last year, seven Congress leaders, including senior leaders, have joined BJP and its allies bringing the party's tally down to 23 from 30. In fact, a day after five Congress MLAs resigned to join NDA partner NPP, party president Rahul Gandhi replaced state chief DD Lapang with Celstine Lyngdoh. However, that didn't improve Congress' position and senior leader and former health minister AL Hek joined BJP.
Meanwhile, Congress remains confident of securing yet another term in Meghalaya and is banking on Christians to support the party. In fact, much of the party's campaign would be around BJP's divisive agenda and how minorities have come under attack ever since BJP came to power at the Center. It is also hoping that good governance will come to its rescue in the poll bound state.
Christians hold the key to who rules Meghalaya and the odds seem to be stacked in Congress' favour. However, if the party repeats what happened in Manipur and Goa, it will be a reminder of how things have remained the same even with Rahul taking over the reins of the party.
– catch news